Sd.Kfz. 135/1(f) Lorraine SiG 33,15cm
Manufacturer: Michael-Gohres-Modellbau (MGM), Germany (Kit #80/15)
By Till Huber - NalarMidas(at)web(dot)de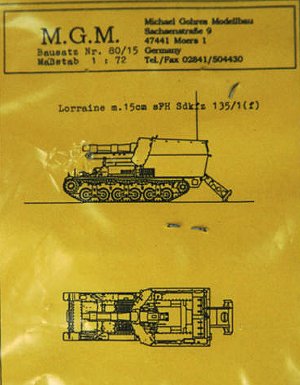 This kit is a mixture of resin and white metal.
The parts came in a clear plastic bag and that yellow piece of thin cardboard with a small sketch. There were no decals or instructions for this vehicle. I ordered mine at Tracks-n-Troops, Phillip passed me this kit because he had no Sd. Kfz 135 with a Pak 40 at hand.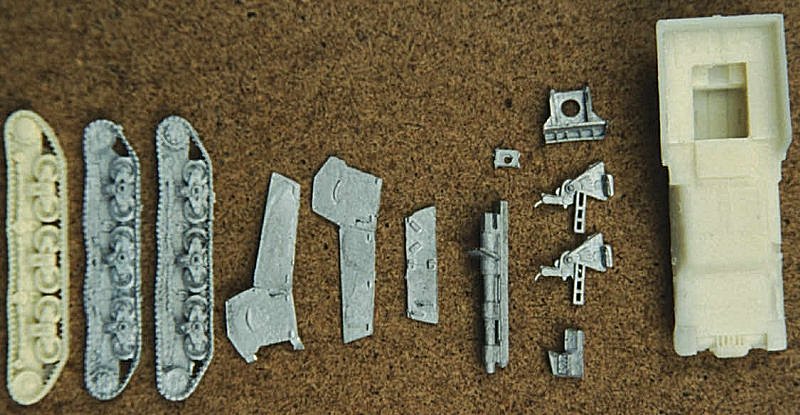 The hull is made of white resin, its seriously lacking quality and looks very crude compared to Alby releases, the metal parts look very crude also; they can be easily deformed and give a quite brittle impression. Some of the parts have to be bent carefully into the right shape like the two large pieces of sidearmour.
Im quite worried about the scale, I compared the trackwork of this kit with the trackwork of Alby's Lorraine, and it seems that it's two millimetres too short. Considering that Alby is more accurate and a true "genre-reference" for us smallscale modelers, I trust Alby to be more precise than this ominous MGM kit.
Interior detail also seems to be missing; I cannot say how much, because I hardly found any reference of this vehicle on the net, but the insides of the kit look very flat. I only know that large numbers were used in North-Africa.
Recommendation: Although I highly recommend Tracks-n-Troops for European customers, I would not recommend this kit unless you really want a Sd.Kfz. 135 with a 15cm howitzer.
---