Sturmgeschutz III Ausf. F8
Manufacturer: Michael-Gohres-Modellbau (MGM), Germany (Kit #80/13)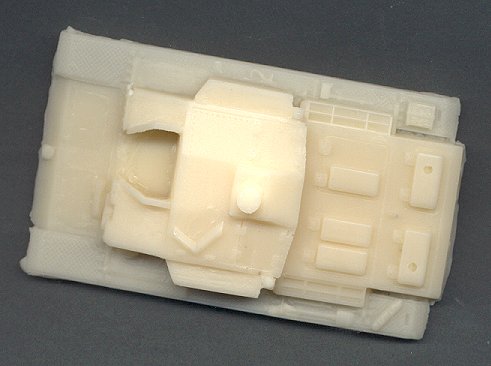 The above scan makes this kit look a little worse than it is. Although it's not the greatest kit I have seen, it will be a good start for a conversion. The kit consists of only the piece pictured above, which is meant to be used with the ESCI Stug III Ausf. G, but perhaps it can also be used with a Panzer III from either ESCI or Revell.
As seen in the scan, there is a small amount of flash around the edges of the hull and fenders, but nothing that can't be easily removed. The new fighting compartment is very well done, and matches drawings of this vehicle very well. My main complaint is the fenders. The fenders on the ESCI kit were poorly detailed, with molded-on tools, and these deficiencies have been inherited by this conversion. There is an additional flaw on the fenders where the forward part of the Ausf. G fighting compartment was removed for this conversion. There is no tread pattern on those portions of the fenders, which may not really matter, since it will be best to remove the fenders anyway.
Although this is a pretty good kit as-is, my plan is to remove the fighting compartment, and use only that part on the Revell Panzer III (along with other modifications). Alternatively, PART has released photoetched Panzer III fenders, which would also work very well.
---