1/72 kits of Japanese vehicles are still rare, and it is the cottage manufacturers who cater for this market best. Michael Gohres from Germany offers more than 50 resin kits of Japanese vehicles in his vast range. But he won't advertise his products on-line; even here on OTW, on Henk's and Tracks & Troops' websites you will find just a selection depicted. That is what made me think of sharing my impressions of one of these rare kits with you although I cannot claim any expertise on Japanese softskins.

The Type 94 was the most widely produced Japanese truck of WWII, used both as a prime mover and a transport vehicle, so this is a very useful kit.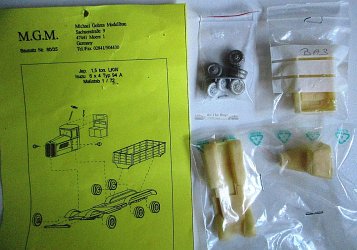 The model comes bagged with neither a box nor decals. Instructions consist of one drawing so the references below will hopefully be helpful. It is not very clear from the drawing but this is a right-hand drive vehicle.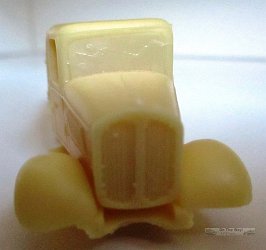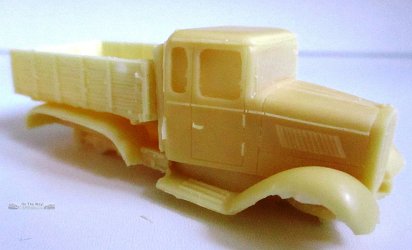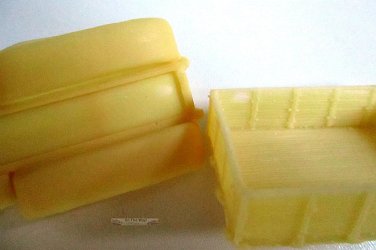 The four main parts are cast in yellow resin. I found two air bubbles in the cargo bed's side and the bottom part, and there is a certain roughness to many of the parts. The cab is cast in a way that you will need to remove a resin film before adding windshield glass, which is not provided in the kit. The cargo bed shows wooden planks but no grain texture. The front grill looks rather nice. Other detail is sparse.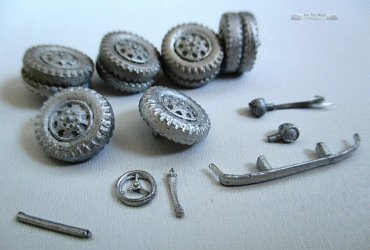 The twelve white metal parts include front bumper, two lights, steering wheel, gear lever, and wheels. The tires have some profile sideways but none on the running surface, hub detail is not that great, there are six nuts per wheel while the Fine Mold kit has eight, and you will probably either want to drill the holes out or apply a heavy wash. My kit's steering wheel is blemished where the metal did not fill the mould entirely.

The cab looks to me as if it has the hard top, not the canvas top. MGM do other versions of the Type 94 so one of those might include the canvas top. There is no canvas tilt provided. Most photos I have seen show a "ladder-like" grate that runs along the top of the side panels but MGM did not include this.

My slim references say the total length of the vehicle was 5430 mm. Since I have not yet built the kit, and lacking scale plans, I cannot judge how much in scale the kit is.

In conclusion, this is a much-needed kit, but one that will require the display modeler to add lots of detail such as mirrors, and will challenge both the novice and wargamer alike because adding the window glass and glueing the metal wheel's short axle stubs onto the resin chassis will be fiddly.
References:

[1] lonesentry.com
[2] plala.org.jp
[3] ammsbrisbane.com - see the "Reference > WW2" section for Isuzu type 94 images
[4] voenteh.com - Russian text so you might want to use an online translator
[5] armorama.com
[6] perthmilitarymodelling.com
[7] modelingmadness.com (1/35 Fine Molds kit reviews)
[8] ost-front.ru
[9] ost-front.ru (1/35 Fine Molds models by Pavel Cherepanov)
[10] hum3D.com (3D model)

If you feel brave, do a Google image search for "Truk Lagoon truck" - there are many images of Japanese trucks rusting away between skulls, tanks and live ammunition on the ships they sunk with in WW2.
Preview sample purchased by the author.
MGM products are available at