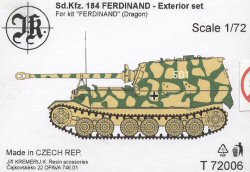 When my package from Tracks & Troops arrived, and I pulled this set from the box, I couldn't help but wonder, why on earth did I order it? The Dragon Ferdinand kit is very poor, and I wondered if I had in fact, intended to order the detail set for the Elefant. The main problem with the Dragon Ferdinand is that it doesn't build a Ferdinand at all, due to the engine deck being appropriate for only the Elefant. And that reminded me of why I ordered this set: because I had hoped that it included the proper engine deck, which would then allow me to build the Dragon kit, instead of it sitting forever untouched on my model shelf.
Unfortunately, it doesn't.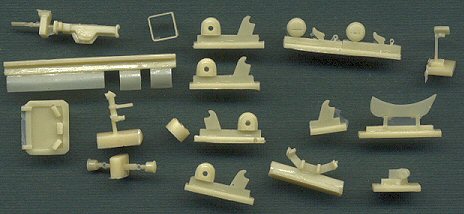 What it does contain is a collection of some of the smallest parts I have ever seen cast in resin. It's actually a fairly small set that allows you to improve the look of many of the smallest details on the Ferdinand kit. The gunner's periscope and armored cover are provided, as is a new roof-top ventilator and armored shield. Lift hooks of an accurate thickness are provided, though, I really think that was something that we could have done ourselves...
A new driver's hatch is included, with armored periscope covers, and it would have been nice to include both of the front crew hatches. Other miscellaneous details include towing eye rings, armored view port covers, exhaust deflector shields, a jack, and open pistol port plugs, which I think are the neatest items in this set.
I think that for the most part, this set is pretty decent (the sculpting and casting are excellent), and it is fairly inexpensive. However, it really needed to include a replacement engine deck, because without it, the Dragon kit is still pretty worthless, even with these added details.