This kit appears to be the first in a line of small scale kits by modeler Tony Ivey; it is a conversion kit to modify a standard 3-ton German military truck of WW2 into a motorized field kitchen (commonly referred to as a Gulaschkanone (Goulash Cannon)) and looks essentially a modification of the horse drawn field kitchen (a vehicle offered in small scale resin media by LEVA Productions and several other manufacturers). I understand that this conversion can be used with the Opel Blitz truck (ESCI, Italeri, Academy and MW kits), Mercedes Benz 3000 trucks (Pegasus Models and resin kit makers), MAN 3000 and Magirus 3000 trucks. The kitchen burned coal or wood.
This conversion kit comes in a small ziplock sealed bag and with a cardboard stiffener.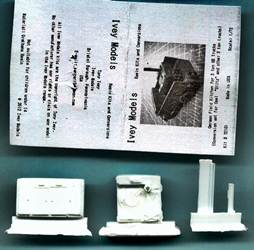 Above is a scan of the four cast resin kit parts and the small information pamphlet showing a photo of the completed field kitchen. I am guessing that a side of the truck bed would be lowered when the kitchen was in use. Having cast and then photographed model parts made of white-colored resin before, I was not surprised at the lack of detail visible in the scan here.



To better show the kit details I added a wash to accent the recesses and raised areas. At far left is the storage cabinet that we are instructed to place at the forward end of the truck bed.
In the center is the actual stove part with large round lid for heating liquids, at upper right is the stovepipe location.
At far right is the pour plug with the stovepipe and the support beam. With the support beam we are instructed to cut it into smaller pieces and glue to the underside of the kitchen (these parts could also be replaced by strips of styrene).
Separation from the pour plugs and clean-up does not look difficult with a fine saw and razor. I noted some small air-bubble holes in the resin, nothing serious. The parts look to be accurate 1/72 scale.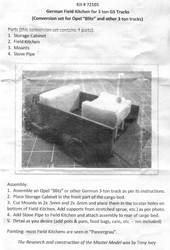 Though the kit has no exploded view instructions it is fortunate to be simple enough to assemble with the instructions provided (written in English). The written instructions are complete, though I recommend also an exploded view drawing for our non-English speaking friends.
References
Trucks of the Wehrmacht, by Reinhard Frank, Schiffer Military History, Schiffer Publishing (1994). ISBN 0-88740-686-6
http://www.onthewaymodels.com/gallery3/TIvey_Ivey_Opel.htm
http://www.2ndpanzerdivision.com/field_kitchen.htm
Additional reference photos, including ones with views of this field kitchen mounted in a 3-ton truck can be found on line with a good web search.