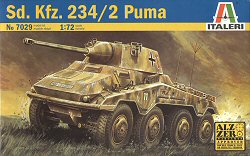 I've finally completed my Puma collection with this new kit from Italeri, and I can now do my comparison review between all four kits I own (which can be seen here). This kit from Italeri is fairly decent, though not without flaws. Italeri seems to be targeting both scale modelers and wargamers with their kits, which I think is a big mistake, because they are going to end up not satisfying either group. The kit come with optional parts that are intended to simplify construction of the chassis for wargamers, but luckily this time they've provided only a single set of wheels, which are very nicely done.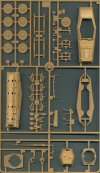 This is a very simple model, one of the simplest of all the Pumas available. But even with its simplicity, it is nicely detailed, and very accurate in size, shape and details. I've compared it to the dimensions and drawings included in the reference book listed below, and the body seems to scale out perfectly, though the turret is a little bit too tall, and its cheeks don't bulge out quite enough. I think the height discrepancy is legitimate to point out, because there are several photos of historical vehicles that show nice side views of this vehicle. But as for the shape of the turret, it's hard to say how "off" the kit is, since there are no surviving Pumas today to compare it to, and the drawings in the book I referenced may very well be wrong as well.
Unilike the other Puma kits, this one gives a complete gun, not just the barrel, which makes it look huge on the sprue, though once it's removed from the sprue and mounted, it is much more reasonable. It may be just a hair too long, but not by much. I am not impressed with the cast gun mantlet, however. The opening for the gun is too large (in order to be able to slide the gun through it from the rear, muzzle brake and all), and it doesn't close tightly around the barrel as it should. It is also a little too squared off, which can be handled with some sandpaper.
I am not sure what type of tire is depicted on the boxart, but the tires in the kit represent the late style of tread pattern (though simplified, because of molding limitations). The wheel rims are also of the late pattern, and very nicely done, though the center hub doesn't look quite right. Some weaknesses: the turret hatches are closed, and the smoke grenade launchers are greatly simplified, though they may be easy to modify.
Instructions are perfectly well drawn, and there is marking information for four vehicles, three of which are presented in color on the rear of the box (though the date on one of them is incorrect). Decals are very nicely printed and seemingly in perfect register. All in all, this is a very strong contender in the Puma arena. It is better in some areas to the other kits, though not as good in others. Overall, I wouldn't hesitate to buy this kit, which in fact, I didn't.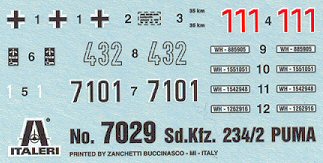 References:
Kagero Photosniper No. 20 - Sd.Kfz. 234, by Parada, Koenig and Jabwonski