Cruiser Tank Crusader Mk. III
Manufacturer: Hasegawa (# 31126)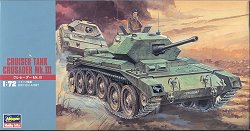 Since this model was recently re-released by Revell, I thought it might be a good idea to post a Preview of it.
This is an old model, originating some time in the 1970's, I believe, but it was a remarkably well made kit for that time. Today, it seems to be a bit behind in the times, but it still can be built into an excellent model, as shown time and again in this site's Gallery, as well as on other modeling sites. But why Revell chose to release this particular model is beyond me. They (or we) would have been better off if they has instead released an earlier Cruiser tank, perhaps like the A13 or A10.
The quality of the moldings is very high, with superb surface detail, no flash, and very little in the way of sinkmarks. The driver's hatch, as well as the turret hatch, is molded open, a crewman is included, and the rivet detail is just crying for a decent weathering job. But there are also a couple of drawbacks to the kit: the inside sprocket is actually molded onto the hull, and the tracks, although fairly well detailed on the outer surfaces, are rather plain on the inside, and made from the horrible black vinyl for which Hasegawa is notorious. The molded-on pioneer tools is also old fashioned. A major feature missing from this model is the metal side skirts used in the desert. Although the Revell website at one time showed a built model with these skirts, they are in fact, not included.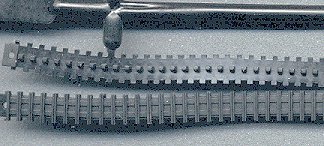 The decals are very thick, and slightly faded, even though this is a new kit. Aside from that, they are well printed.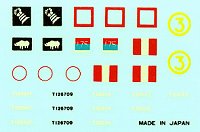 As far as dimensions are concerned, according to published dimensions, the width is dead-on for 1/72nd, while the length is about 2mm too long. Whether or not that length discrepancy is only in the fenders, or some other portion of the hull, I don't know without better scale plans. The tracks are also a bit too wide.
Additional comments from Jorit Wintjes: "Whereas Hasegawa's hull is indeed quite acceptable and dimensionally accurate, the turret is too low and the profile is suspect, resulting in a vehicle that doesn't look like a Crusader. Actually, the Airfix turret (while supposed to be 1/76, which it isn't) is a far better option (but then you can build the Airfix Crusader, of course, who scales out slightly smaller than 1/72 - it's however slightly too long)."
References:
British and American Tanks of World War Two. Peter Chamberlain and Chris Ellis. Cassell & Co., Great Britain. 1969.
Crusader Cruiser Tank 1939-45. David Fletcher and Peter Sarson. Osprey Publishing Co., Oxford, United Kingdom. 1995.
---