Much of this preview overlaps with those of the sister kits of the Sd.Kfz.234/1 and Sd.Kfz.234/2, as only two sprues and the decals are specific for this kit.

The A, B and C sprue (the latter is provided twice) are shared with the sister kits: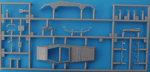 The two sprue "C"s contain a total of 12 wheels/tyres with 2 different types of thread and 2 types of hubcaps. So, although you only have enough of one type to completely outfit the kit, you can choose to have some variation for some of the wheels. The manual has different wheel-types installed on station 3 (L&R), although I fail to see why you couldn't just use them anywhere, representing a field replacement, or use the same wheels as on the other stations.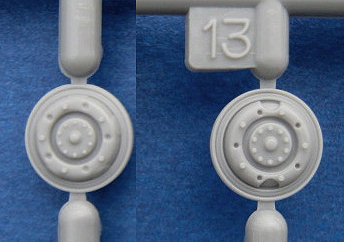 Picture by Elliott Winthrop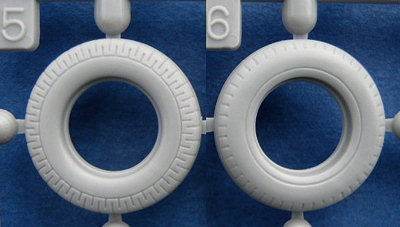 Picture by Elliott Winthrop
The hull has enough inside detail not to be embarassed with this open topped vehicle. Still, for some reason the Hasegawa kit designers chose to represent the rear driver's seat without its leather cushion and backrest, thus showing the springs. Perhaps they slavishly copied the details found in a semi-derelict museum example, or they wanted to give you a head start towards building a burnt-out vehicle. I don't know, but it's very surprising.
(Added 04 January 09:)
According to input I received from Patrick Mondria, it could also represent a folded down seat back (actually makes more sense). He also points out that vehicles produced very late in the war lacked this seat (and presumably the backward driving option).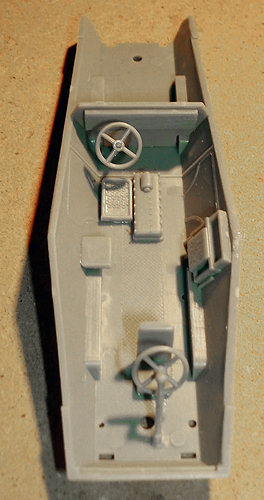 Picture above: lower hull partially assembled showing springs in rear seat.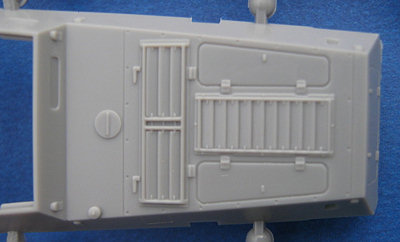 Picture by Elliott Winthrop
The "G" sprue is specific for this 234 variant, containing the gun cradle and armored side walls. It also contains a different type of exhaust, which is presumably a late type. Historici are apparently still debating whether this exhaust was actually fitted during the war, or was only fitted on some vehicles after capture by the Allies.
Sprue "J" is also for the Stummel variant, although this one is shared with Hasegawa's Sd.Kfz.251/9; as a consequence the sidewalls and other parts on this frame are not to be used.
You also get a sheet of the usual, thickish Hasegawa decals, which are in very good register. There is an abundant choice of numbers and while only one painting scheme (for 116PD) can be found in the manual, there are some spare unit insignia on the sheet: 2PD, 116PD, Pz Lehr, LSSAH and 10 PD. The latter is a bit surprising as according to my references this unit never used the Sd.Kfz. 234/3. (10PD was destroyed in North Africa well before the service entry of the Sd.Kfz.234 and never reformed.)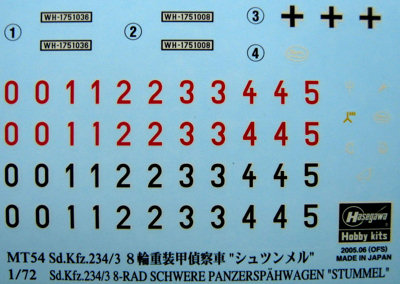 Picture by Elliott Winthrop
The drawings in the manual are, as usual, very clear although the English translations are sometimes absurd. I am not quite sure what is meant with "After making it dry enough, it advances to the following distance", for instance.
References:
[1] Die Gepanzerte Radfahrzeuge des Deutschen Heeres 1909-1945, W.J. Spielberger. Band 4 der Reihe "Militärgahrzeuge" , Motorbuch Verlag
[2] Panzer Tracts No. 13 - Panzerspähwagen, by Jentz and Doyle
[3] Sd.Kfz.234, Kagero Photosniper 20
[4] German Armoured Cars and Reconnaissance Half-tracks 1939-1945, B. Perret, New Vanguard 29, Osprey Publishing