What we have got here is what can truly be called a "multi-media" set. There is plaster, resin, cardboard, paper, wood and even some plastic. (Even though, the latter might actually be some very flexible resin.)
The centerpiece is a 15 by 15 centimeter plaster base plate with some impressive detail. What I noticed was that there is some kind of "pixelation" present on some of the details, as if this were made with a kind of screen. Alternatively, it might be the result of the action of a laser, as most of the other parts are laser-cut. It does give some texture to it all, though.
The main structure of the house is made from laser-cut cardboard,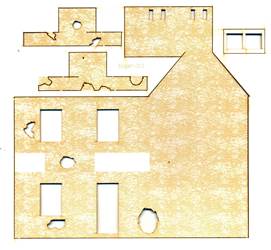 to which we need to add details. These come in different thicknesses of paper/cardboard.

Small details are given in wood and plastic (resin ?), while the plates for the roof are definitely resin.

The manual is the largest I have seen for a diorama item. (Most dio sets even come without any explanation.) It counts no fewer than seven pages.
In all, a very impressive set. As I have never worked with these materials, I feel a bit apprehensive as I might have to adapt my techniques.