What we have got here is what can truly be called a "multi-media" set. There is resin, cardboard, paper and wood.
The centerpiece is the resin 10 by 10 "foot and boom" of the windmill.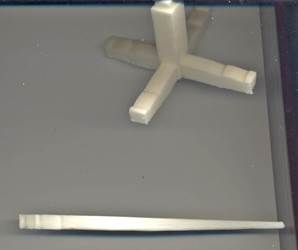 The main building of the mill is made out of laser-cut cardboard and balsa wood. The thinner balsa parts are actually quite fragile.
Smaller parts are made of laser-cut wood or paper.
The manual is the largest I have seen for a diorama item. (Most dio sets even come without any explanation.) It counts no fewer than fifteen (!) seven pages. I only scanned a few.
In all, a very impressive set and bound to be an eye-catcher at any show.
As I have never worked with these materials, I feel a bit apprehensive as I might have to adapt my techniques.