What we have here are three sets of laser printed paper, meant to represent common plants or plant leaves. The only other renditions I have seen of this sort of diorama item are in PE. Not only is the paper far cheaper, I believe it can be made to look more realistic as well.
GL-1-72-002: Leaves of Water Lily
From Wikipedia:
The phrase "water lily" is used to describe aquatic plants of the following families, which have lily pads:
Nymphaeaceae, is a family of flowering plants
Nuphar lutea, the yellow water lily
Nelumbonaceae (Nelumbo), also called "Lotus"

The set contains 32 leaves in four sizes that capture the look of the typical Water Lily. Fumbled up and given some washes with darker and lighter greens I believe the set will do justice to an aquatic diorama.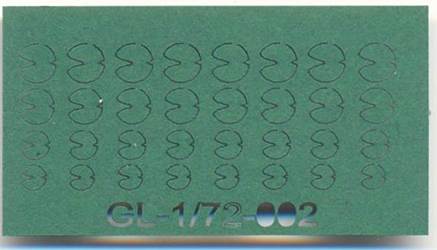 GL-1-72-003: Bulrush
From Wikipedia: Bulrush or bullrush is the common name of a variety of wetland plants, typically in the sedge family (Cyperaceae).
The set contains 12 groups of stems, which need to be folded, glued and locally covered with scattering material, which is not included. I am not sure if the latter is the good approach in 1/72, as the Bulrush seed head (as I envisage it) is rather smooth. (Botanists might argue that there are many sorts of Bulrush, and that some might better be served with some flocking.)
I am not sure how well the paper will hold up against the folding, gluing and other abuse.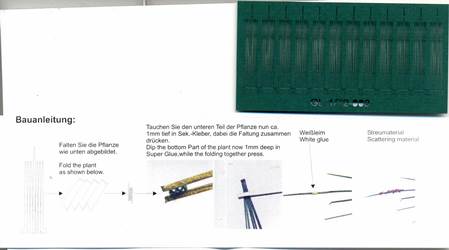 GL-1-72-005; Barliman Butterbur [sic]
Barliman Butterbur is the owner/ward of the Prancing Pony. I believe the set we have here has nothing to do with him, but is just a set representing "Butterbur" (i.e. without the "Barliman") or "Common Butterbur" leaves. (The German title of the set strengthens my belief in this respect.)
From Wikipedia:
The plants commonly referred to as Butterbur are found in the daisy family Asteraceae in the genus Petasites. They are mostly quite robust plants with thick, creeping underground rhizomes and large Rhubarb-like leaves during the growing season. Another common name for many species of this genus is Sweet Coltsfoot.

From Wikipedia:
Common Butterbur (Petasites hybridus) is a herbaceous perennial plant in the family Asteraceae, native to Europe and northern Asia. The flowers are produced in the early spring, before the leaves appear; they are pale pink, with several inflorescences clustered on a 5–20 cm stem. The leaves are large, on stout 80–120 cm tall stems, round, with a diameter of 40–70 cm.
It is also called Bog rhubarb, Devil's hat and Pestilence wort. (Ed. note, the German name of the set is "Pestwurz oder wilder Rhabarber").

The set contains 32 leaves of which very few are identical. Fumbled up and given some washes with darker and lighter greens, I believe the set will enhance any diorama set near a boggy stream, or (with minor modifications) a garden replete with rhubarb.