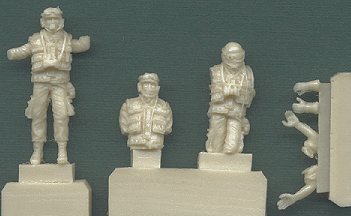 New resin manufacturers are beginning to appear almost every month, and I can't help but be amazed at the ability of these modelers. Goffy Model is the newest kid on the block, and in addition to several figures and conversion sets for 1/35th scale modelers, they have also begun a new line of 1/72nd scale figures and accessories. The set reviewed here, the Modern US Tank Crew, is a unique set, with no other manufacturer making modern US figures. In addition to being very useful, they are also awesome figures. I've seen the photos on the company website, but with the low resolution of those photos, it was difficult to really appreciate the amount of detail that the sculptor has put into these figures until I saw them in-hand. I hope these scans do them justice.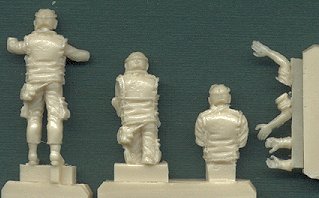 The sculpting is fantastic, and with the exception of a single air bubble marring one of the trooper's goggles, the casting is first rate as well. They are dressed with tanker's helmet, flak vest, microphones, and two of them have scarves over their faces, as in a desert environment (and one has his goggles lowered). The standing figure measures 26.5 mm tall with boots and headgear, so I guess about 25mm without, which makes him about 1.8 m, or 5'11" tall.
I have some questions for those who may know: are there differences in the tanker's uniforms for the US Army and the US Marines? Could these figures be used for both? Can they be used in Bradleys and LAV-25s, or only Abrams? If anyone knows the answers to these questions, please let me know and I'll post the information here, because I'm sure others would like to know as well. Thanks.
Thank you very much to Goffy Model for the providing the review item.