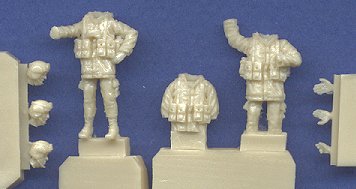 This is the second in Goffy Model's new series of resin figures. Like the Modern US Tank Crew previously reviewed, these are also awesome figures of a subject never before done in this scale. Well, that's not entirely true; Fine Scale Factory did a set of Israeli tank crew, but they pale in comparison to these Goffy figures. I've seen the photos on the company website, but with the low resolution of those photos, it was difficult to really appreciate the amount of detail that the sculptor has put into these figures until I saw them in-hand. I hope these scans do them justice.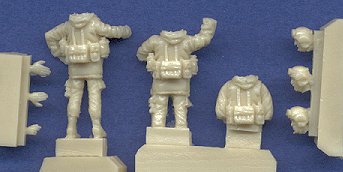 The sculpting is fantastic, and with the exception of a single air bubble marring one of the trooper's jacket cuffs, the casting is first rate as well. They are dressed with tanker's helmet, heavy jacket, microphones, and full load of personal equipment. I currently have no references on the uniform of Israeli tank crewmen, so I do not know if this heavy jacket is a foul weather item, or part of the normal kit of a tank crewman. Here is a close-up of the standing figure and the heads, so that you can better appreciate the high quality of the sculpting. Keep in mind that this guy is only 21mm tall!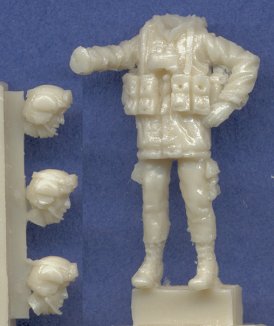 The standing figure measures 21 mm tall with boots but no head. The head is a little over 4mm, so I guess he's about 25mm total, which makes him about 1.8 m, or 5'11" tall.
I truly hope that Goffy continues with the series of Modern tank crews. French and Russian crews would be great, but in particular, I hope to see British and Arab crews, since they also have never been done in this scale.
Thank you very much to Goffy Model for the providing the review item.