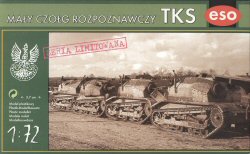 I think the official, clinical term to be applied to the makers of this kit is insane. I've never before seen injected plastic parts molded this small before. Some companies won't even give us link and length tracks for a Panther tank (not mentioning any names), yet ESO has done this exact thing with this diminutive kit. Everything about this kit was designed to give hard-core model builders exactly what they have been asking for all these years. All hatches are open (even the engine and transmission access hatches), the tracks are hard plastic, and the tools are molded as separate parts.
There are two sets of sprocket wheels included: one pair with some of the sprocket teeth removed to simplify track installation, and the other pair are intact. Rivets are molded in good relief, and the kit gives the option of armament: 20mm cannon or 7.92mm machinegun. Tow hooks, hatch handels and the commander's periscope are all molded as separate parts, as are all wheels. This kit exhibits greater detail than many other kits three times its size.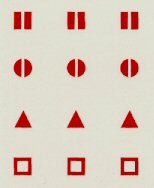 The markings are an added bonus. Most Polish armored vehicles carried few, if any markings at the start of WW II, but these will allow the model builder options for modeling other time periods. Although the instructions don't state so, I think these are platoon markings.
According to the measurements on Michal Derela's excellent website (and in the kit instructions), this model scales out perfectly in length, but is about 1.3mm too wide. I can't measure the kit height until built.
Be forewarned: this is not a kit for beginners. It is very complex, and will take great patience to build, but I have seen built examples of it, and it looks magnificent when finished.
Thank you very much to Rafal Niedzielski for the review kit.