Flakpanzer IV Wirbelwind
ESCI Kit 8063; ESCI/Revell # H2364; ESCI/Ertl # 8310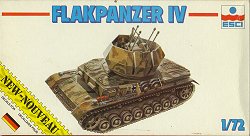 Based on the old ESCI Panzer IV kit, until recently, this was the only kit available of the Flakpanzer IV Wirbelwind (except for a resin conversion from Al.By). The recent release of the Hasegawa Wirbelwind has made this kit rather redundant, and it doesn't really compare all that favorably with the Hasegawa kit. The main reason is the hull, which is rather archaic compared to newer moldings from Hasegawa and Revell. The turret is actually not that bad, although the walls are slightly thicker than on the Hasegawa kit, and the gun barrels are very overscale. But the separate, and very detailed, ammunition clips included with this kit are a very nice touch. Several companies now make replacement gun barrels in turned brass or aluminum for the Flakvierling 38.

Sprue 1

Sprue 2

Sprue 3 front

Sprue 3 back
The tracks are horrible, of course, unless you buy the ESCI/Ertl version of the kit, which includes hard styrene link and length track, which are actually quite decent (although the inner surface is bare).
The decals in my kit are typical of ESCI, i.e., fairly poor. The decal sheet in the ESCI/Ertl release includes markings for only a single vehicle, I am not sure about earlier releases.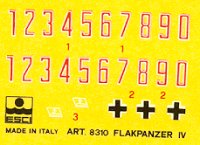 Although a nice kit for its day, I feel that it has been eclipsed by the Hasegawa Wirbelwind, and is likely of interest only to collectors (but it certainly can build into a fine model on its own).
---