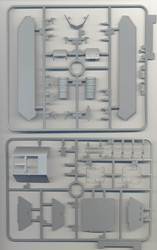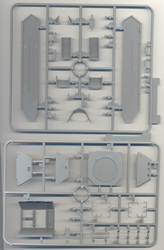 Above we see the sprue with some smaller bits, and the test turret, which was a body to simulate the weight of the gun turret. Note how massive those Schürzen are.
Two identical sprues with the running gear are included. The running gear is what is going to take most time to assemble.
A small PE sheet for the engine grilles and a boarding ladder is included. The tracks are DS; one is slightly distorted.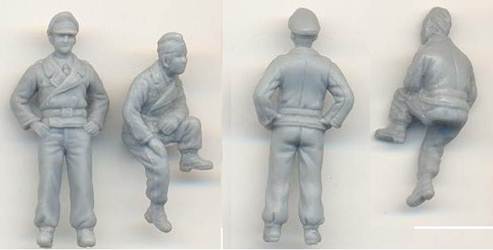 It is rare to find figures in Dragon kits, which is a shame, as the two figures in this kit (which are the same figures as in Dragon's E-100 kit) are very nicely done, even though they are in some very flexible material.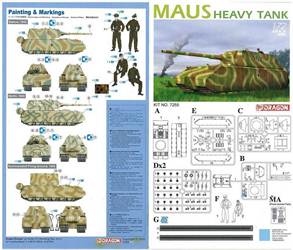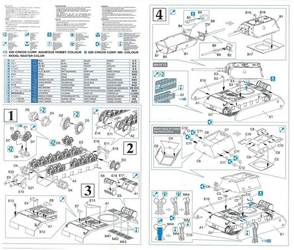 Pictures from Henk of Holland website, used with permission.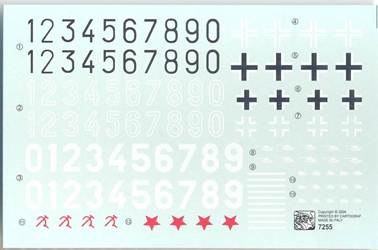 The instructions are the (now) typical Dragon instructions. The decal sheet is the same as in Dragon's E-100 kit. The red stars and sickles were apparently used by the Germans to disguise the vehicle as a captured Soviet vehicle when it was tested at Kummersdorf. There is a certain irony in the fact that it was eventually captured by the Russians, which saved them time when it came to adding new markings. (I cannot judge their accuracy, though.) The other markings are purely circumstantial.
As mentioned above, most of the construction work will be in step 1/2: the running gear. Step 3 (the upper hull) is only a very small amount of work. Step 4 is for the turret. I already built the E-100 turret for a diorama, and as it is very similar to this turret, I believe the ease of assembly of that kit carries over to this one. It's nice, with the two figures you get, that the turret hatches and driver's hatch can be opened. The turret hatches appear very small, given the size of the turret and compared to the figures.
What the optional turret is concerned. I am not sure if this was only a dead weight or that it could turn. (I've never seen it in any other position than 12 o'clock). The Dragon turret cannot turn, so this is probably correct. It does not have any interior. I am not sure if this is correct, but it might be. I am also unsure if the bottom of the turret was just a blank plate, but again it might be.
More references
Achtung Panzer