Fiat 626 nml
From Faustnik - jmqtv(at)iol.pt
Manufacturer: DOC Military (Kit #72200)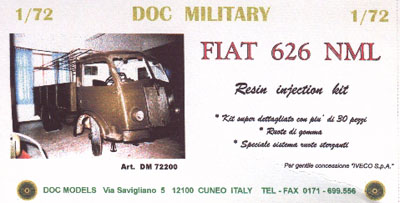 Contents:
- 24 Parts moulded in yellow Resin of medium/high Quality
- 7x Rubber tires.
- 1x Strip of clear plastic for the windows
- 1x Sheet of decals with 2 options (1x Italian Vehicle and 1x German)
- 1x A4 sheet of Assemble Instructions of Subject (text in Italian)
- All parts are in individual plastic bags. All items packed in a sturdy card box, with a photo of an original vehicle in a museum.
- No painting information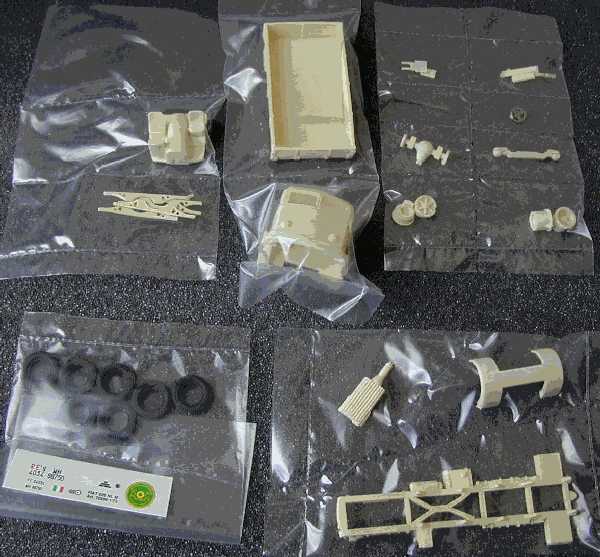 Evaluation:
Medium quality of castings and details.
As any resin kit, some cleaning of the parts is needed, even if this particular item has few . Some care in removing small parts from their sprues is also needed. In my specimen there were no air bubbles, but some warping of parts is visible on most parts of the chassis and elements of the cargo compartment.
To correct this the best way is to use a source of hot air (or under hot water) to gently force the offending part to assumed the correct shape/position.
Some sanding of the walls in the interior of the driving compartment is needed, to make them more to scale. Of course, the interior of the cab is open to some super-detailing, depending of your will, information and skill. Another option is to use a figure of a driver.
The instructions show a sketch of the mounting of the parts and are enough for the task. As in all resin kits - and not only - is useful to use another information, either plans (Geoff Lacey has one of this vehicle) and/or photos of the real 1:1 item.
Overall:
An excellent choice of subject, as this vehicle could be used almost from 1939 till 1945, in several colours and users:
Italian Army 1941-43
RSI Army 1943-45
French Army 1940 (yes! some of them were imported in 1939-40)
German Army 1943-1945 (captured examples and some of production in 1943-44)
(re)captured vehicle, in the hands of any allied army, from the Soviet till the Dutch.
As far as scale is concern, using the data from Bart VANDERVEEN and Geof LACEY (Scale Plan It 26), the overall dimensions is far from being correct, as the length is at 1:72, but the width is at 1:69. Unless my sources are wrong this means some work to correct it - if you have the time and the will, after all, there is only an excess of 1,5 mm of width, so you can simple forget it.
Recommended (after all is, to my knowledge, the only model of this vehicle at this scale).
DOC Military is relatively a newcomer in this business. If this firm is going invest in 1:72 WW2 Italian material they have all my support, as this is a relatively forgotten area. In a leaflet they announce a Lancia 3RO, so were is my VISA?….
---