Lancia 3 RO
From Faustnik - jmqtv(at)iol.pt
Manufacturer: DOC Models (Kit #DM72300)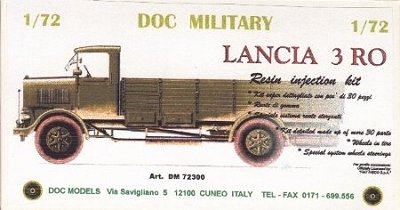 What you Get:
23 Parts moulded in yellow resin of good quality
7 Rubber wheels
15 White metal parts
Packed in a sturdy card box
A small sheet of clear plastic for the windows (you must cut them)
2 rods of copper wire (for the differentials)
A sheet with assembly instructions
A small sheet with decals (Italian)
USEFUL References:
CLARINGBOLD, Trevor, Plan I-3
LACEY, Geoff, Plan IT20
VANDERVEEN, Bart, 1989. Wheels & Tracks Historic Military Vehicles Directory, After the Battle Pub.
Evaluation:
This is the new offering from DOC models, after their FIAT 626 NLM. The quality, while not up to the level of AL.BY is good but not exceptional. While my specimen doesn't have any bubbles or warping, some areas need a careful and energetic cleaning. Also some areas will need some super-detailing, particularly the driving cab.
As far as scale is concern, using the available data, this is the result:
Dimensions in mm
Real
1/72
Kit
Wheel base
4300
59,72
61,70
Cargo width
2295
31,877
33,55
Driving Cab Width
2098
29,138
31,45
From this evaluation, the current model is near the 1/70-1/69, than the 1/72.

Recommended
---