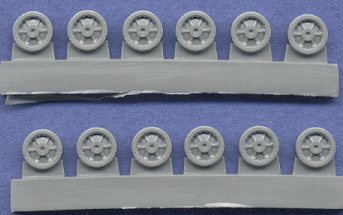 The 6-spoke stamped wheel was a later style of wheel seen on the M4 Sherman tank and is most suitable for late war tanks, including the 76mm-armed Shermans. These resin wheels are better than many Sherman wheels I've seen in 1/35th scale. They include both the grease plug and relief valve, as well as the rivets on the inside of the rim that hold the tires on. Very impressive.
My only complaint ... well, it's not actually a complaint, but rather wishful thinking, is that it would have been nice to have included one or two extra wheels for use as spares or for stowage on vehicles.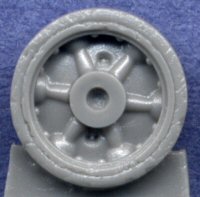 Casting is very sharp and clean ... I think. As you can see in the above close-up scan, the tire and wheel rim are very roughed up and worn. Was this intentional? I think it looks great, but honestly, these wheels are so small that this weathering will be very difficult to see on the completed model. The wheels measure just a hair too small in diameter (about 0.2-0.3 mm), which is perfectly acceptable to me, so I'll likely buy several more sets of these wheels for my future Sherman projects.
References:
MMiR's Modeler's Guide to the Sherman, by Pete Harlem
Squadron's M4 Sherman Walk Around, by Jim Mesko
Sherman - A History of the American Medium Tank, by Richard Hunnicutt