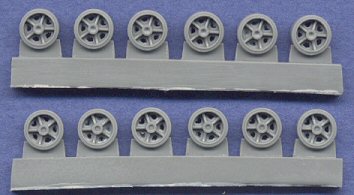 The 5-spoke cast wheel was the earliest style of wheel seen on the M4 Sherman tank, and is suitable for the M3 Lee/Grant tanks as well (though the wheels included in the Mirage kits don't really need replacing). Although it's an early style wheel, it was seen on Shermans throughout the war, but later in the war we'd be more likely to see wheels with the open spoke holes welded shut.
My only complaint ... well, it's not actually a complaint, but rather wishful thinking, is that it would have been nice to have included one or two extra wheels for use as spares or for stowage on vehicles.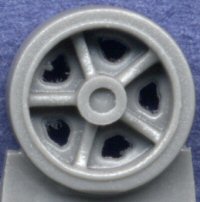 Casting is very sharp and clean, and the wheels measure just a hair too small in diameter (about 0.2-0.3 mm), but I'm not concerned about hairs, so I'll likely buy several sets of these wheels for my many Sherman projects.
References:
MMiR's Modeler's Guide to the Sherman, by Pete Harlem
Squadron's M4 Sherman Walk Around, by Jim Mesko
Sherman - A History of the American Medium Tank, by Richard Hunnicutt