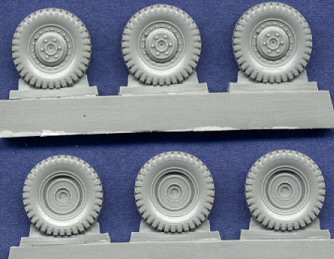 Let's face it, the wheels that come in the Italeri M8 kit are pretty lousy. Although they do have backs to them (unlike the wheels on their DUKW), the wheel rims are not very accurate. Additionally, they are far too small in diameter. These resin wheels from Calibre72 are designed to replace those poor Italeri wheels, and they do so admirably, but with a single flaw.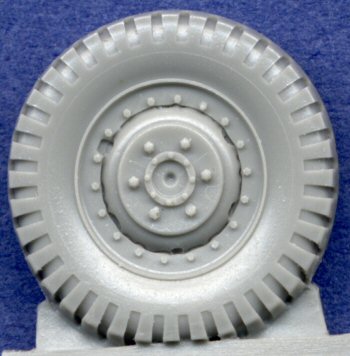 As you can see in the scans, these wheels are amazingly detailed and very well cast. No casting flaws whatsoever. I think that the central portion of the rim with the holes spaced around its outer edges could protrude from the rim a little bit more, but that's just my opinion and is very minor. All of the bolts are molded in excellent relief and there is a gap in the rim to allow access to either a lubrication point, or the tire filling nozzle, not sure which, but it's a very nice touch. Although the tire diameter is about 0.5mm too small, that's well within an acceptable level of accuracy for me, and is much closer to the real wheel than are the Italeri wheels.
The flaw that I mentioned above is the lack of center hubcaps for the two front wheels. All six wheels included in this set are identical, which is incorrect. The two front wheels should have a small conical hubcap as seen on the Italeri wheel pictured below: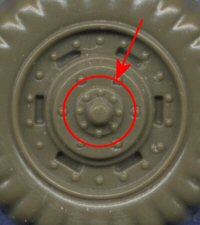 Luckily it will be quite easy to either replicate this hubcap ourselves, or else carve off the ones from the Italeri wheels and use them on the resin wheels instead.
As a comparison with the resin wheels that are included in the Extratech M8 kit (which I believe are also sold separately), the Extratech wheels have the proper hubcaps for the front wheels, and are the same diameter as the Calibre72 wheels. They also have a more pronounced center portion of the rim, which I think looks slightly better, but the casting on the Calibre72 wheels is much more sharply molded. If you don't mind fixing the hubcap issue, I think the Calibre72 wheels are the better wheels, but the Extratech wheels are excellent too, and slightly more accurate.