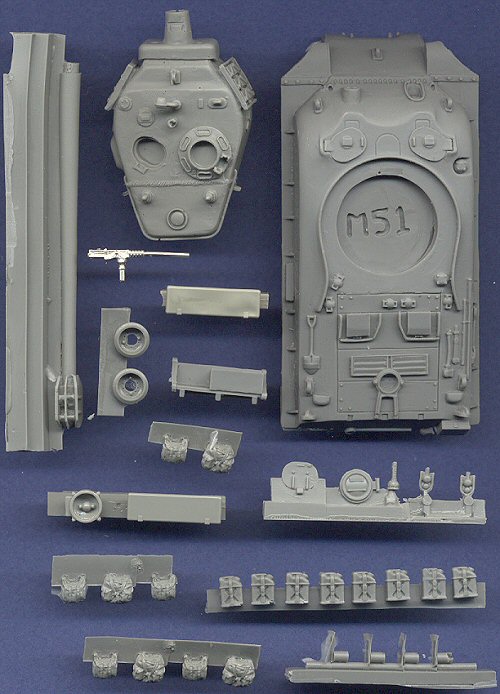 Another Sherman conversion from CPL Overby, this one is meant to convert Hasegawa's M4A3E8 into the 105mm-armed M51 Sherman. The HVS suspension from the plastic Hasegawa kit is required to complete this conversion.
The hull is based on an ESCI M4A1 Sherman hull, but it is modified to accomodate the Cummings diesel engine. All of the pioneer tools are molded onto the hull, with fairly decent relief, though I will likely replace them anyway (I'm very picky about those things). All lift rings are molded open, which is pretty impressive for a resin kit, though the crew hatches are closed. Many stowage items (spare wheels, tool boxes, fuel cans, bags and packs) are provided as separate parts. Headlights and tail lights are molded onto the hull and definately need to be replaced with new lights and etched brass brush guards. I do not know if stowage on these tanks was standardized, but the photos I have seen of the M51 show there to be two smaller boxes mounted on each hull side, instead of one longer box on each side, as provided with this kit. But as in all cases, the best way to build these Israeli Shermans is to use any photo of your choice as your reference.
The turret is a modified T23 turret from the Hasegawa kit, which means that it is rather large, bulky, and not shaped entirely correct. The gun mount has been modfied for the new cannon, and has the rear bustle has been enlarged. Spare track links are molded onto the turret sides and smoke grenade launchers are provided as separate parts. The hand-hold around the bustle is molded on, though it's a little heavy, and a very nice .50cal machinegun (cast in silver) is also included. Both crew hatches are molded open. The large spotlight is provided as a separate part.
This kit is designed as a conversion for the Hasegawa HVSS Sherman, and needs the wheels and tracks from that plastic kit. Although I dislike the tracks in the Hasegawa kit, cast metal tracks have been marketed by Fine Scale Factory which could be used instead. (Keep in mind that both UM and Dragon will release HVSS Shermans hopefully this year. Their tracks and wheels will both likely be far better suited for this conversion than the Hasegawa parts.)
The casting of this kit is very well done, with very few holes in the resin, all of which are easily fixed. This is a nice addition to CPL Overby's ever-expanding line of Sherman kits.
Thank you to CPL Overby for providing the review sample.