Wooden Bridge
Bennett's Palette (#DA004)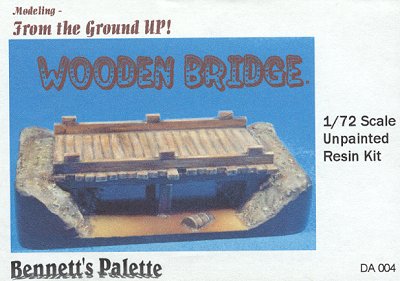 Like the previous Rutted Road piece, this set is designed as a simple, yet realistic desplay base for a single small scale AFV, and perhaps a couple of figures. As described on the back of the box, this piece represents a small bridge built by German engineers for use by half-tracks, light tanks and smaller.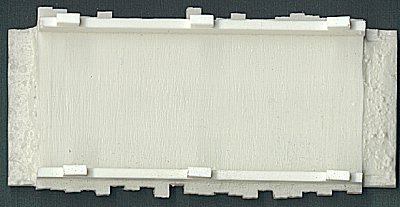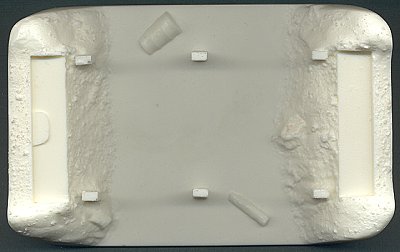 This set is made of two parts, the base, and the bridge. The fit of the two pieces is very good, though a small amount of ground filler will be needed to eliminate the seams at each end of the bridge. The detail is first rate, with excellent texture to the ground, and a nice, yet subtle, wood grain on the bridge. A neat feature of this set is a sheet of guidelines and tips on how to paint the water, and add other terrain material to your base. The information on this sheet is sort of a primer to making diorama bases, and is especially valuable to those who are new to dioramas (like me). Although a good paint job will be more than enough to bring this base alive, adding some extras like grass, will also improve the ambience of the scene.
Depending on how many extras you add to your scene in the way of figures and whatnot, it's possible that the judges at a contest may move this one into the Diorama category. By definition, a diorama should tell a story, so just a vehicle sitting on a bridge with a couple figures standing by technically should not be in that category, but some shows have very strict rules on what constitutes a diorama, such as "more than three figures" etc. Keep all of this in mind, if you want your tank judged in its appropriate category. Of course, this base can always be added to a larger diorama base of your manufacture, to make a much larger scene.
Thank you very much to Rick Bennett from Bennett's Palette for the review sample.
---