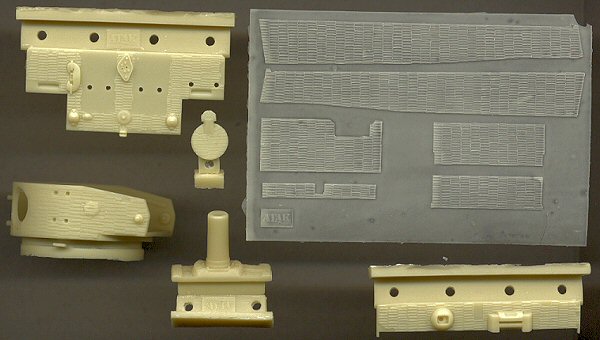 A very early set from Atak, in fact, their first. Designed for the Revell Tiger I kit, it provides an excellent alternative to using brass zimmerit, or the Dragon pre-zimmerited plastic kit.
The complex pieces such as the turret, gun mantle, etc., are replicated as resin parts that directly replace the plastic kit parts. The zimmerit coating for the larger, flat plates is provided as very thin resin film. This film is extremely flexible, and is easily applied. First, carefully cut the carrier film away from the edges of the zimmerit parts, then test fit them to the kit, trimming as necessary. Apply some slow-drying superglue or epoxy to the kit, smearing it evenly over the plastic where the zimmerit is to be applied, and then carefully set the resin film in place, making sure all the edges are properly aligned. Viola: perfect zimmerit.
This is a beautiful set, and in my opinion, the best and easiest way to produce a Tiger I with zimmerit.
Thank you to Rafal Niedzielski for providing the review set.