MAN F4 6.5 ton Truck
Manufacturer: Art-Toys (# GER 001), or Wespe (# 72004)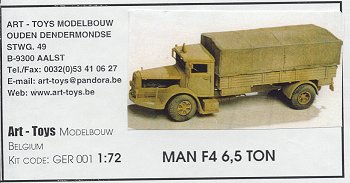 Do you like softskins? Then you must get this kit. This is one of the finest truck kits I have come across in resin or plastic, and rates right up there with MarS and Al.By. It is composed of 41 very high quality resin pieces, which will assemble into a very large, and imposing model. This was a huge truck (6.5 tons), which becomes very apparent when comparing this kit to other kits of smaller trucks in the 3-4 ton range.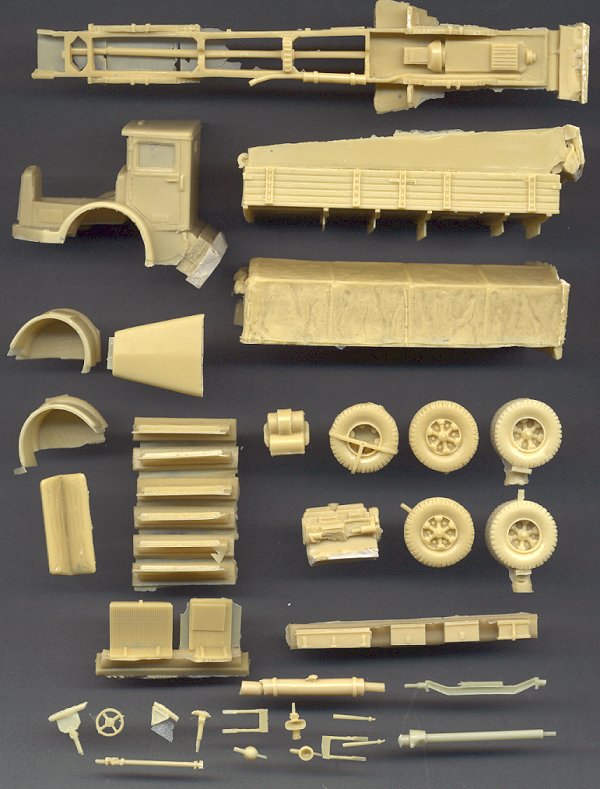 The masters for the kit are superbly detailed, and the resin casting is very professional. There are some large pieces of resin to remove from some of the parts, but overall, the kit design was very well thought-out, and construction should be relatively hassle-free. There are no air bubbles in my sample, and the small amount of flash is paper thin. The driver's cab is hollow, but because it is molded in one piece, it might be a challenge to add some clear plastic for the glass. The engine compartment for this truck is open on the sides, so a fully detailed engine is included.
The instructions are composed of some text, and five black & white photos of the completed model, which show the placement of the kit parts. While not as good as some instructions I have seen, it is better than most resin kit instructions, and should prove adequate to the task. No markings are included. As of now, I have no references for this vehicle, so I cannot comment on the scale, but considering the large size of the kit, I would guess that the stated scale is correct.
Thank you to Philip Van Acker at Tracks & Troops for providing the review sample.
---