Krupp LD 6.5 ton N242 Truck
Manufacturer: Art-Toys (# GER 002) or Wespe (# 72005)
Preview by Stephen Brezinski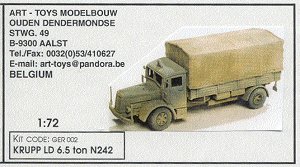 Though coming with a large instruction sheet the assembly instructions are poor; though considering that many resin kits come with no instructions I am very thankful for them. You can see an exploded view of the model with the about 30 numbered parts and the reference to the parts on a completed model.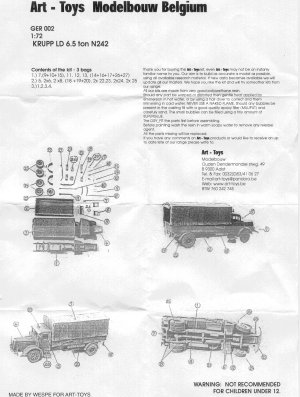 The parts are packed in plastic and in a sturdy box. I found no breakage, serious warping or air bubbles. The amber-resin casting looks superb and not difficult at all to clean-up with a razor saw, sharp knife and sandpaper (save the resin pieces for building debris!). Also included are the very small and delicate things like the side view mirrors. The scan I include is of a few selected parts to show quality. Quality is easily on par with MarS, Modelkrak and AL BY. I like softskins and I like this truck.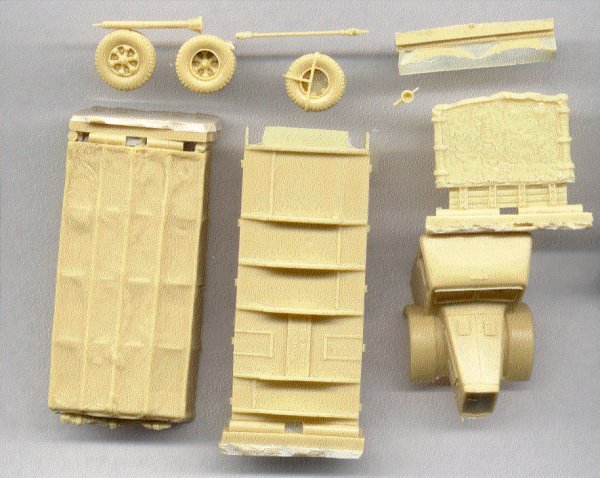 A companion to this truck for a diorama or vignette is Art Toy's 1/72 Heavy Trailer, kit #GER003), also very well done. This truck had a 125 hp diesel engine. For diorama builders, I have one photo showing it towing a trailer in France, 1940 as part of a transport unit. It is safe to say that you can model it in panzer gray, or dunkelgelb with or without brown & green mottling. It could be portrayed in France or Russia though Africa is questionable. I think this heavy a truck is likely more associated with a transport unit than a combat unit.
---