The T-54, T-55 and T-62 used OMSh tracks, that are joined together with a metal pin without rubber bushing (unlike RMSh tracks); another difference between the two is that the openings for sprocket teeth are closed on sides in OMSh and open in RMSh tracks.
Being the type of tracks universally used in the most mass-produced tanks in modern history they are extremely useful, particularly considering that both 1/72nd scale T-62 tanks on the market today (ACE and Esci/Italeri) have rather unusable tracks. Sprocket wheels for T-54/55 are also provided, another welcome addition.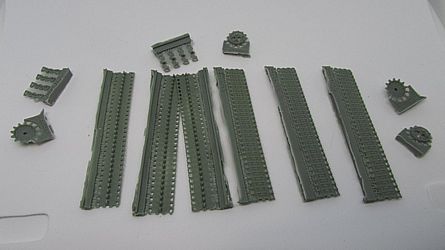 The parts are very well cast, with discrete sprue gates; due to the finesse of the parts, removing them will require extreme care. Quality is very high, with lots of accurate detail everywhere. Unfortunately, as it can be argued from the photos, flash is quite abundant.
Dimension-wise they look a bit too wide (8.7mm while they should be 8.05, equivalent to 580mm of the real track), but this small difference is hard to notice. As for the number of links per side – it should be 96 for T-62 and 90 for T-55 (according to tank manuals); counting every link, you get 94 per side, which would be too much for a T-54/55 and too few for a T-62.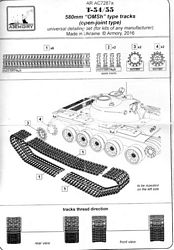 The instruction leaflet shows how many parts you get (6x straight sections, 8 single links, 2 inner sprockets, 2 outer sprockets), and how they should be mounted, along with the exact thread direction which is something very welcome.
Conclusion:
If you are assembling one of the old kits of a T-54/55/62 you will need new tracks, and these are certainly very good.
References
[1] S.J. Zaloga, T-54 T-55 T-62. Concord Publications Company, Hong Kong 1992.
Preview sample kindly provided by Armory.
This model can be purchased from