Early T-54 versions mounted a type of roadwheels generally nicknamed "spider-type", because they resembled a cobweb: they had 12 reinforcing ribs, 12 large lightening holes and 12 small lightening holes closer to wheel hub. The tyre was solid rubber without any perforations on the side.
the T-54 road wheels were extremely similar to those mounted on late T-34/85, so that most people think they were the same. On the contrary, T-54 spider wheels are smaller in diameter and larger in width, although I doubt these small differences would be visible in 1/72nd scale.
Starting from T-54b, "spider-type" wheels were replaced with the "starfish-type" wheels, which had to become so characteristic of the whole T-55/T-62 family, and older models had their wheels replaced with the newer ones when back for repair. However, it was not very rare to see a T-55 or T-62 with a mix of "spider" and "starfish" wheels, as the older wheels were seldom used as "on-field" replacements.
The parts are very well cast, with discrete sprue gates and a good amount of flash, which would force the modeller to clean every single hole (there are 240 !).
Hubs are provided separately and they have the correct number of bolts.
The instruction leaflet is quite useless because it is not hard to understand how to assemble the wheels.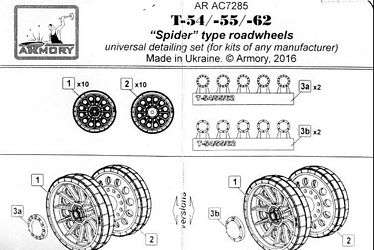 Conclusion:
The set is very accurate, but its use is quite limited: as for now, the only kit on the market where you could mount these wheels is the PST T-54/54A (n. 72045); Trumpeter produces a T-54B (n. 7281), a version which mounted the starfish wheels already. However, if you are looking for maximum realism when building the PST kit, this set is for you.
References
[1] S.J. Zaloga, T-54 T-55 T-62. Concord Publications Company, Hong Kong 1992.
Preview sample kindly provided by Armory.
This model can be purchased from