I never quite understood how Academy composed their ground vehicle sets, and this one really is an odd one out, even to Academy's standards. Well, whatever... After having built the Schwimmwagen and while I was busy finishing the Opel, I couldn't stand the thought of having a box with only a bomb trolley in it taking up space on the shelf, so I decided to build it. I also happened to have a diorama under construction that could accept it, so I had all the excuses I needed.
(A scan of the sprues can be found here, while a scan of the manual can be found here.)
Below you can find some pictures of the real trolley. I couldn't really find much information on the thing, so this is what I had to go by.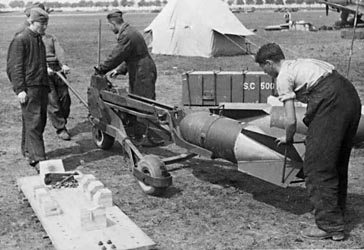 From [1]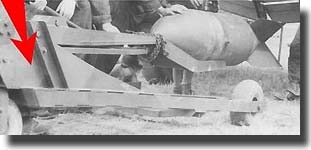 From [3]
Comparison of the pictures above with the Academy parts below immediately shows that Academy has simplified the trolley enormously in the area of the wheel arms. There are no technological reasons not to be able to get a better rendition, even if you try to do it with a single piece. Being rather lazy, I limited my remedial work to some carving around the wheels, to make them stand out better.
This is highly insufficient to capture the fragile look, as you can see below in this 1/32 model, but it will have to do.
Notice, in the picture above, how frail the 1/32 model looks, compared to the 1/72 rendition we have here.
When installing the lifting arm I decided to fill the hole for the pivot. Unfortunately I used an excessive amount of filler and destroyed some detail in the process. The 4 bolts on the side of the trolley are therefore replicas of those originally found on the kit parts.
Note how small the assembled "vehicle" actually is, and how small my allowance has become.
As you can see in the pictures above, the towbar is rigidly attached to the nosewheel, making it float into the air. Mine will eventually rest on "something". The nosewheel itself can not be turned/steered without some (minor) surgery, but the lifting arm can be positioned even after assembly.
PS: For those who are looking for something more original and/or have more trolleys than they can care for (like me), the picture below (from [2]) shows a more original use of the trolley, i.e. as a jack to replace a tyre.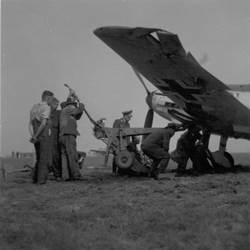 References
[1] Luftwaffe re-enactment group
[3] Sprue Brothers