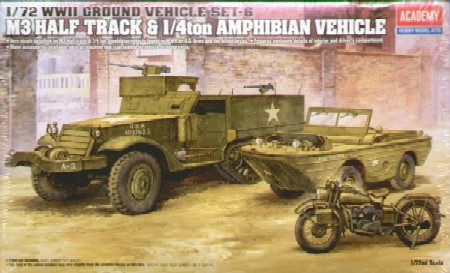 Releases from Academy are not as fast and furious as some other manufacturers, possibly because Academy don't take vehicles in 1/72 seriously but as additions to their Aircraft range, hence the aircraft orientated releases that have gone before. This release is more for the military modeller than the aviation modeller, though I am sure that some of these vehicles graced airfields, not enough to warrant a model purely for the Aircraft modellers.
Military modellers have waited a long time for a decent H/T having put up with the Hasagawa offering for too long and although I have never measured the Hasagawa kit it looks to be too big for 1/72. There is an added bonus in that you also get a amphibious Jeep and a nice Harley Davidson
The first spru contains the chassis for the Halftrack, the track units come as a single piece with just the outer drive wheels to be added, this actually works quite well with the outer wheels being very nicely detailed. Optional bumper with or without winch are provided.
The second sprue contains the upper hull with the bonnet being a seperate piece, this breakdown gives hope to other variants being released in the future. 1 .50 cal and 2 .30 cal Mgs are provided as is the pulpit to make an A1 variant, however that being said only the A1 version is shown in the instructions, the 2 .30 cal have mounts for placement around the troop compartment. Also on this sprue is the Harley Davidson, it is a kit of few parts but still nicely detailed, the one thing missing is the windshield, as they are for all of the vehicles, for the H/T and Jeep this is not so bad as the frames are provided, but for the Harley this will be more difficult. The stowage racks for the rear of the H/T are moulded as solid parts, also missing are the stays attaching the lowered raks to the hull to stop them from swinging all the way back to the downwards vertical. The side racks are provided but nothing to fit in them, prehaps the After market will come to the rescue.
The front bonnet
the Interior troop compartment
The Amphibious Jeep, all the parts are nicely detailed and the main hull is a single piece that everything else fits in to
Markings are provided for just one of each vehicle
This is a nicely detailed kit that scales out well to 1/72nd, although only the troop compartment door is the only one that can be opened, all the visors can be made opened or shut, the stowage racks are moulded solid and could benefit from some after market PE, interior detail to the cab is a bit sparce and could benefit from extra detailing, the kit however provides the perfect start point.
References
Half-Track- Wydawnictwo Militaria # 25
M3 Half-Tracks in Action, Sqn/Signal 34
M3 Infantry Half-track 1940-73 New Vanguard 011 Osprey Publishing