Comparative study between the AMC & AL.BY Steyr 1500A
By Eduard Ferrer
I built both kits within a month of of each other, the last one being the AMC version, so I had present the built AL.BY kit while building the Czech kit.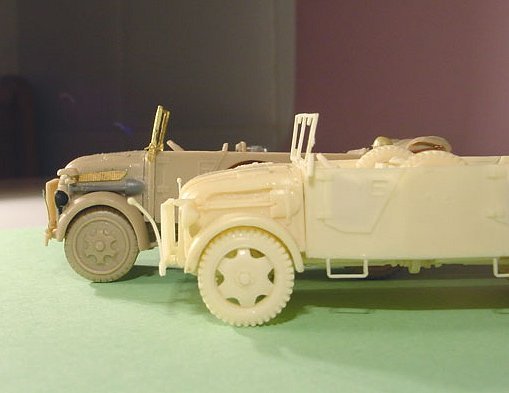 The AMC Steyr is not a straightforward kit at all, however there isn't any special point too hard to overcome. Anyway you will spend a lot of time primarily in:
Sanding to thin the radiator protective bars, in order to let them show the photo-etched. After spending half an hour of carefully sanding, I'm not happy with the results, so I'll recommend to scratchbuild the protective bars;
Replicating decent wheels;
Assembling the main hull, where the walls and the fenders don't agree to get married...
Deepening the place where the photo-etched must be inserted.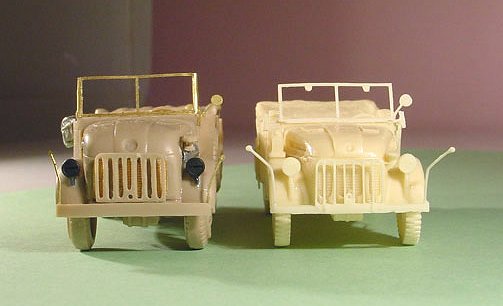 As an improvement of the kit I:
Scratch-built a license plate frame;
opened the rear compartment doors;
Added some support frames to the tarpaulin using wire;
Replaced the front Bosch lights with others from the ZV models' Einheits truck;
Added tools on the front;
and finally, put the 'U' frame where the foot goes when you try to get inside the car.
The final result is quite convincing, and if I forgot the occasional pain when assembling it, I felt the same satisfaction when I finished the AL.BY car.
While the AMC offering has better detail on the seats and allows the rear compartment doors left open, the AL.BY construction time is about 5 times less with similar result...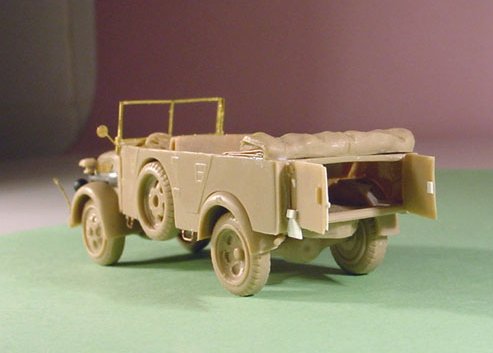 Happy modelling,
Eduard Ferrer.
---