Steyr 1500a and 1500a/01
Manufacturer: AMC Models (Kit #72103 & 72104)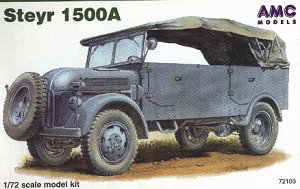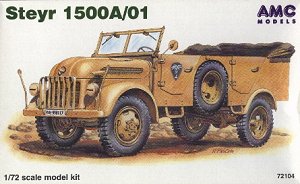 Contents (both Boxes):
44 Parts moulded yellow plastic
A small fret of PE for the Side grills and driving board
An acetate sheet for the front window
Packed in a Cardboard box.
A sheet of assembly instructions
decals comprising 1 version for each model: 1500A a Gro▀deutschland Div. in PanzerGrau finish (in 41 or 42); The 1500a/01 from the 10.Pz.Div./Afrika Korps vehicle in a 1942/43 Desert Finish (Tunisia)
Evaluation:
This is basically the same model - same sprues - with relevant pieces deleted to make that particular version, which is a good idea as that will keep the cost down, at least on terms of moulds. This is a limited production model, which is a definition I do not understand, as the model and moulds are new… perhaps this is a ruse to increase prices?
As I'm a fanatic for WW II period soft skins, either in plastic, white metal, resin or mixed media, when I've heard of this model I simply just ordered it. It took some 2 months to receive it, and by now I was receiving some not so good info about it, complaining about the excessive price tag - without doubt caused by the PE - and some not so clean finish of it, especially those wheels...
So, as soon as I receive it, I just pick my references and start studying it. While produced in the order of the 19000 models, very little info surfaces about it. It seems that two main versions were made:
# 1500A/01 (here the 1500A), without the exterior spare wheel on the left side (41-42);
# 1500A/02 (the 01 in AMC) with a spare wheel visible on the left side (42-45). Being both air-cooled made this vehicle very popular on "hot areas".
Most were made by Steyr-Daimler-Puch A.G. in Steyr (Austria) to be later complemented by the Auto-Union A.G. production, after forced to abandon their Horch typ.40 version, much more complex and not so reliable.
They were used as normal troop carrier, carrying a normal Truppe/Section/Squad, replacing those missing SPW Sd.Kfz.250 and 251, as a radio vehicle, Jagd PW (panzerjager units with Panzerfaust and Panzerschrecks), commanders vehicle, prime movers for 5cm PaK 38, 7,5cm PaK 40 and similar ordnance, including 12cm GrW 42 mortars.
And now the useful references:
# WWP (Wings & Wheels Pub.) n║9, Steyr 1500A in detail, by KORAN & MOSTEK - while presenting very little info on this particular version, and focusing in some obscure models, this still is the best all-round reference for improving our Steyr;
# Schiffer Pub. German Personnel Cars in Wartime, from FRANK, Reinhard, for some history and a few photos;
# Geof Lacey's plans in 1:76, G65 & G66
# For some real pictures of restored models just go to the archives on the Panzermaniacs website.
Starting with the detail, it seems to be good, with some excellent and crisp. While some of the kit parts seem to be on the heavy side, specially the bonnet and mudguards, overall the kit receives a very positive note, while still on the sprues.
The heaviness of some of the parts will give you problems during the assembly. Personally I will remake some of the suspension, the frontal exterior protection and detail the inside of the body doors. The assembly sheet is sufficient for the task.
During the scale measurement, I found some problems in the area of the mudguards, as these appear to be too short, compared with Geof's plans, but not with the WWP plans, so I accepted them.
While the A version has an open hood/tarpaulin, the 01 version has a closed one, and you are expected to make the support arms, using some stretched plastic, or similar. I would prefer both versions of hood in the same box, and by the price all the parts should be provided.
The wheels, are without doubt the major problem, as the detail is too heavy, particularly on the wheels hub and thread, needing some serious improvement and work. Let's face it, they screwed it up. To some of you, the AL.BY's offering could be more cost effective - around the same price tag, at least for me on the UE - but it lacked some of the detail present in this model. Personally, I will try to correct it using perhaps some ingenuity - a lot of mud over the wheels…
About the PE fret, this is a bonus and a curse. Personally I'll prefer no PE, with the details in plastic and a more accessible price. You are expected to cut and carve the plastic parts - tricky, but the plastic is, in these parts, some 2mm wide - to insert them. This isn't very well explained on the assembly diagram, as on these you should only glue it over the plastic parts, contrary to the box drawing, which is correct.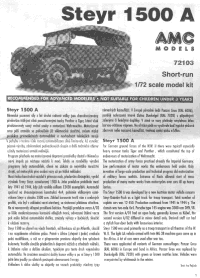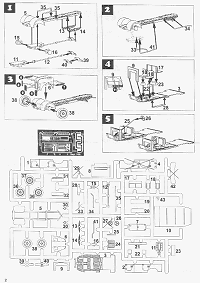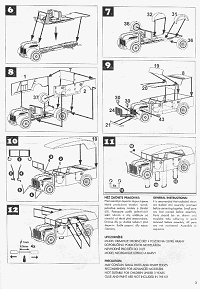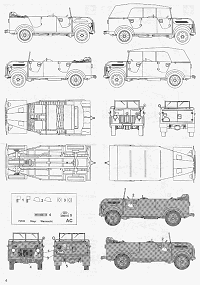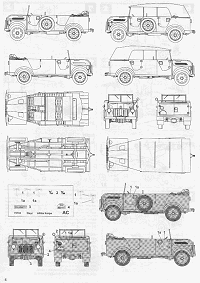 Overall:
I have a mixed feelings about it:
# While I like ANY new soft-skins in this scale, and a Steyr 1500A is a very good choice, the price issue is IMHO very important, especially with a relationship with quality. The detail while good in some parts is very problematic in some others, like for example the wheels.
# Overall, using the available data, the dimensions are at 1:72.
If you always dream about a plastic Steyr, this is the model for you, and if your budget permits it, and if you solve the wheels issue, one could build a lot of different models using this model. For some of you these could be a lot of IF's, so just wait for some other Steyr, while others will "jump the wagon" like myself - is better an AMC Steyr on hand than another future one flying.
Recommended for the Soft Skin Die Hard
jose_ventura(at)portugalmail.pt
---