AMPS 2010 took place from Thursday April 22nd to Saturday the 24 in Auburn Indiana. The venue was the WW2 Victory Museum , now a part of the National Military History Center. The Auburn and the Victory Museum are great places to visit even if there's no model show going on. Early in the 20th century the town was an important centre for automobile manufacturing, hosting the Auburn Automobile Company, later joined by Cord Automobile and Dusenberg. The company specialized in high-end autos - the BMW and Lexus cars of the day. Unfortunately, when the Depression hit, their niche market disappeared and the company went bankrupt. Now all that remains is the amazing Auburn Cord Dusenberg Museum (located in the former show room complex of the Auburn factory - a definite do-not-miss if you're in town) and a antique auto heritage.

(left) A shot of the Art Deco entrance hall of the ACD Museum. That's Roch Graveline and Steve Guthrie checking out the displays.

The antique auto element is important because the owner of the Victory Museum, Dean Kruse, made his fortune auctioning collectible cars. About 10 years ago Mr. Kruse purchased a huge collection of military vehicles from a defunct museum in Belgium and transported them to Indiana, where he created his own museum in honor of US veterans. The collection is unique in that it concentrates, not on tanks, but on softskins, half tracks and other support vehicles. It is truly an amazing collection for sheer scope and breadth of coverage. It is very important to keep in mind, however, that the original collection was put together based on the idea of having examples of a lot of rare vehicles and not necessarily on historical accuracy. As a result many of the displays have been cobbled together from parts that were collected from dumps after the war, supplemented by fabricated pieces to fill in the gaps. This makes the collection less useful for the armor purist, but they are still very impressive. It also provides a really great venue for an AMPS show. When you're tired of spending your money at the vendors' booths you can wander the display halls taking detail photos of the vehicles, or just smelling the lingering atmosphere of military vehicles - oil, gasoline and history! I assume that the AMPS International Show will return here at some point in the future - when it does I really recommend that take the opportunity to visit.
This year's AMPS was probably the best one I've been to for small scale stuff. For once there were vendors who were actually catering to the braille scale crowd.
First of al there was Jose Rodriguez from Tiger/HQ-72, with his excellent small scale bases and building - this year he also had the Iron Division low bustle Sherman turret.
Also, Stephan from Wespe was there with his line of resin kits - I dropped a few bucks there, picking up the Stalinetz Tractor and the Horch Radio truck. He keeps expanding and improving his line of 1/72nd scale stuff.
Armor Rats had the full range of Bison decals as well as some 1/72nd decals from Echelon that I had never seen before - there was one set of a German Stug unit and a second with cartoon head markings for British Sherman IIIs (I'll try to post a review on 1/72nd scale Shermans when Doug C. gets settled). I also picked up some small scale barrels from ArmourScale on a great deal.
Wings n'Treads had the usual good selection of small scale kits and accessories, including some hard to find Dragon kits and a few of the recently released Maco kits. I also picked up one of my favourite purchases of the show at Wings n' Treads - the Brengun 1/72nd scale etched brass bicycle set.
Armand Bayardi was also there with his line of resin accessories - last year he brought out incredible sets of US jerry cans in 1/72nd scale, as well as US and German oil barrels and some misc. boxes. This year he added German jerry cans to the line (once again, incredible) as well as US wooden boxes with separate lids. He also had on offer a set of dragon teeth antitank barriers, moulded as a grid the way they would have been done on the battle field (I'll try to put a review up on "On the Way" in the near future).
All of this was in the main room. In an annex there were two other vendors who blew me away. One was John Vojtech, representing UMMM-USA but visiting from the Czech Republic. I have rarely met a nicer guy and, among his larger scale stuff, he had almost the complete range of 1/72nd scale Goffy sets and the full range of braille scale Black Dog after market resin. Out-freakin'-standing! I picked up a whole lot of the Goffy sets (including the DUKW update kit) and a bunch of the Black Dog sets (including the US Tanker and civilian set). John also had a pile of AMC etched brass and resin sets, like the truck upgrade,the German and US cable reels, Panzer III tracks with Ostketten and German helmets. And, get this, his prices were really reasonable! I dropped a bundle at his stand.
Also in the Annex was a guy, I didn't get his name or his company, who was selling off a huge pile of RB Model small scale barrels at really great prices. I must have picked up 30 of them. He also had a number of UM kits at good prices.
On Saturday we held the Braille Scale roundtable and, while there weren't as many guys as have attended in the past, the discussion was great as usual. Here is the group photo: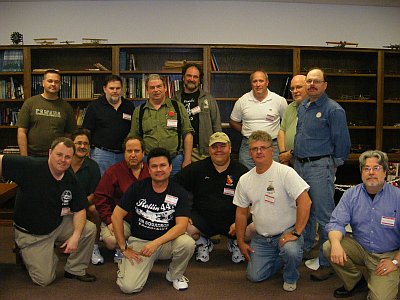 (front row, kneeling, l-r) Dave Showell, Ed St. Denis, Joel Gewirtz, Chris Benjamin (who's significant other, Mary, attended the meeting and took the photo), Jose Rodriguez, Mike Durand, Paul Gaertner
(back row, standing, l-r) ?, ?, Steve Freeman, Tom Fiochi, Rick Carlson, Steve Guthrie, Roch Graveline
The 2010 AMPS featured the first ever Braille Scalers' choice Best of Show 1/72nd Scale and Smaller award. There were some really stong contenders but the winner was Paul Gaertner III with his scratch built Atomic Cannon. He took the trophy, provided by Jose Rodriguez, and well-deserved it was.
Joel Gewirtz's
Achzarit Silver Medal winner
Paul Gaertner's Scratchbuilt Atomic Cannon
Best of Show 1/72 Scale and Smaller winner
Joel Gewirtz's
IDF Shot-Kal Silver Medal winner
Christopher Benjamin's
M3 Silver Medal winner
Joel Gewirtz's
IDF Staghound Bronze Medal winner
Joel Gewirtz's
T-34 Bronze Medal winner
Don Van Duzen's
T-54A (modified from Trumpeter T-54B)
Advanced Level Silver Medal winner
Roch Graveline's
Dragon Tiger I Initial Production