Construction review of the 1/72 scale Valentine kit ESCI (#8361) Italeri (#7013) and the MR Models 1/72 scale conversion #7281

Introduction

I won't delve into the deep history of the Valentine tank and how it got its name [being one of the few British tanks without a name beginning in the letter "C"]. An attempt will be made to briefly and adequately describe the different variants, or Marks as the British called them and what the ESCI (a.k.a. Italeri) model represents. In addition to an early Valentine variant we'll also explore a late variant using one of MR Model's excellent resin & metal conversions.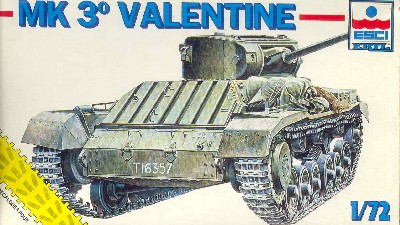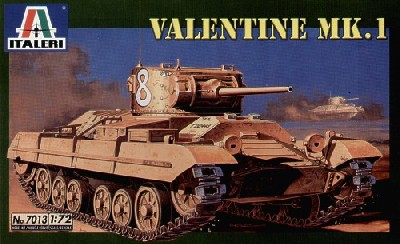 Figuring out the Marks.

The Valentine was designed by Vickers company as an infantry support tank. Looking at the box art for the ESCI and Italeri models above we note that the ESCI model is listed as "MK 3 VALENTINE" and the ITALERI model is sold as the "VALENTINE MK. 1", yet they are the same model kit. Who's correct? Well, both are correct. The answer lies in the full name of this tank and the kit: "Infantry Tank Mark 3 Valentine Mark I". It took my brain several days of pondering to find this out. The Valentine was the UK's third infantry tank (the first two being the Matilda 1 and the Matilda 2) hence Infantry Tank Mk 3. There were eleven different variants (Marks) of the Infantry Tank Mk 3 and the ESCI/Italeri kit represents the Valentine Mk 1 (the first variant). As far as I can see from references, the Valentine Mk 1 was very similar in outside appearance to the Valentine Mk II, Mk IV, Mk VI and Valentine Mk VII and with some scratchbuilt detailing we can model any one of these four other variants. The prime changes made was the change from a gasoline engine to a diesel engine for the Mk II; a new GMC diesel engine for the Mk IV. All of these Marks had a two-person turret, no bow gunner, and were under-armed with a 2-Pounder high velocity AT gun.
The Valentine Mk III and Mk V was the Valentine with a turret modified to hold a third crewmember to increase efficiency. To make room I understand the gun trunnion was moved forward 8" and the turret bustle was extended back 8" to balance. This gives the Valentine Mk III and Mk V its distinctive turret shape with bulbous gun mantlet.
MR Models offers two conversions with what they advertise as making two different variants each of the late Valentine: MR kit #7280 is sold as building a Mark VIII or Mk IX; and MR kit #7281 is advertised as building a Mark X or Mk XI. The Mk XIII is listed as a 2-pounder armed Mk III that is up-gunned with a 6-pounder but no coaxial mg and the turret crew reduced to two. (I have heard that the Mk VIII actually was never produced but cannot confirm this.) The Valentine Mk IX was a Mk V up-gunned with a 6-pounder gun. Both Mk VIII and Mk IX had the BESA coaxial machine gun deleted. The Valentine Mk X began production in 1943 was up-gunned with a 6-pounder and with BESA machine gun. The Mk XI was up-gunned with a 75-mm gun and coaxial BESA mg. A problem with the MR Models conversion #7281 is that they issue a beautiful turned aluminum 75-mm gun with cast metal muzzle break for the 75-mm armed Mk XI, but no 6-Pounder gun barrel for the Mk X variant. [MR states that both the Mk X and Mk XI were both 75-mm gun armed, though my references disagree.]
The Kit Parts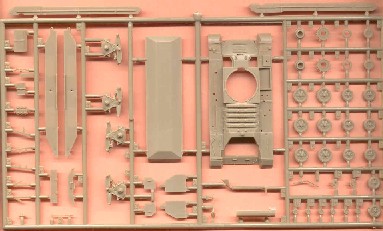 1. Above is a scan of the sprue holding the injection molded hull and suspension, a sprue common to the ESCI/Italeri tank kit and the Bishop SP gun kits. Molding quality is very good though some molding lines will need scraping from around the tires, and there are some small sink marks in the bogies (which are fortunately not seen when the wheels are on anyway). The tank muffler is visible on the sprue below the hull; the muffler pipe opening should be hollowed out.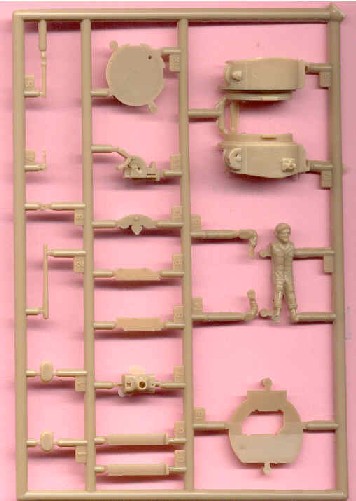 2. The ESCI-Italeri turret sprue is for a Valentine Mk1, Mk II or Mk IV. There is a rudimentary interior with a turret basket, crew seats, and gun breach. If we have the hatch open we'll need to add a lot of extra detail like ammunition bins, wiring and radio. We should also sand the hatches a lot thinner to get them in scale. The single crew figure, at middle-right, is a bit soft in detail.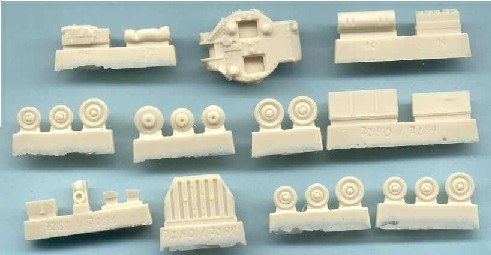 3. The resin parts for the MR Models Valentine Mk XI are very well molded with cream-colored resin turret, 12 late-model Valentine roadwheels, two new idlers, engine hatch, gun mantlet, storage bins and fuel drum. Removing the pour plugs was not difficult with a razor saw and sharp knife. The turret hatches are molded open for half figures only.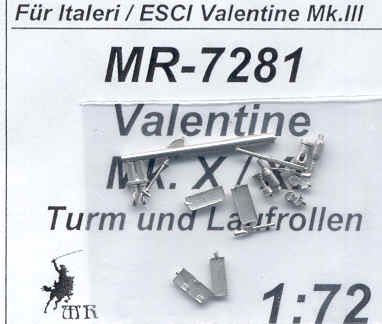 4. MR Models cast white-metal parts include muzzle break for the 75-mm gun, turret hatches, hand tools, etc. These metal parts are cast very well and representative of MR's high quality.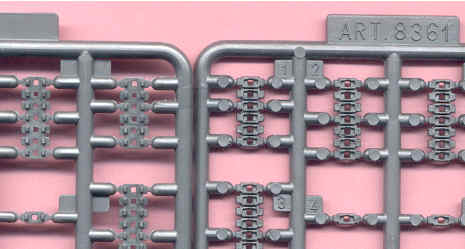 5. ESCI-Italeri's tracks are silver link & length injection-molded styrene with enough for both sides and a few extra links. The track teeth (a.k.a. guide horns) are not fully accurate but acceptable. The Valentine tracks are all steel and ESCI's are the style I have only seen on the early Valentine Mk I and Mk II. The later Valentine tracks appear to have a tread pattern molded in. To re-create the late track links for my Valentine Mk X I filed a narrow groove across each link that would be visible when assembled.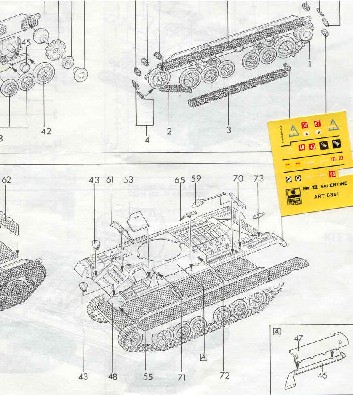 6. ESCI's exploded-view instructions are clear and easily understandable. The water-slide decals are for four different British Valentine tanks. At this time I have not seen Italeri's instructions for this old ESCI kit.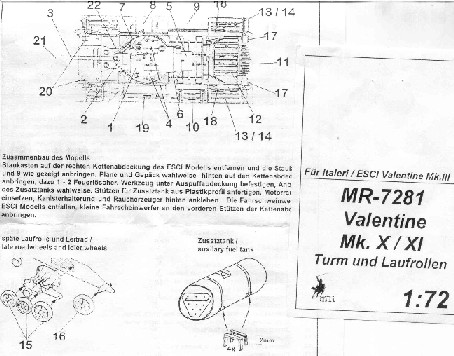 7. Though MR Model's resin molding and detail is superb, their instructions are poor at best. Above is a scan of the confusing assembly instructions. I would prefer several drawings of the assembly showing progressive stages. The roadwheels are straightforward. The support frame for the spare fuel drum must be scratchbuilt. Good references are a must for accurate assembly of this kit.
8. The Valentine Mk IV assembled was to have all crew hatches open so a simple interior was scratchbuilt, using only a few kit parts for the turret interior. Interiors of early British tanks were painted in silver. The 2-Pounder gun barrel needed some putty filler. The vertical white rods around the turret basket in the above photo represent 2-Pounder (40-mm) ammunition.
Overall fit of the ESCI/Italeri kit was good and I recall no significant problems with assembly. This is one of ESCI's better model kits. Better tracks would be appreciated, perhaps with a set of etched brass detail parts?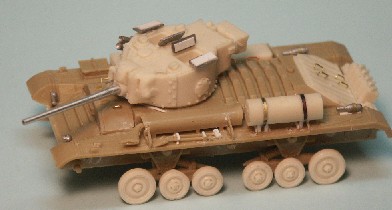 9. Above is the partially completed MR Models and ESCI conversion for the Valentine Mk X with turret hatches open. Additional details include pads under the hatches (British tankers didn't use helmets), crew hatch and engine hatch handles made from brass wire, and brackets for the hand tools and fuel drum. To make the kit's 75-mm gun barrel into a 57-mm 6-Pounder gun barrel, the muzzle break was left off and the muzzle drilled to a depth of 1/8 inch.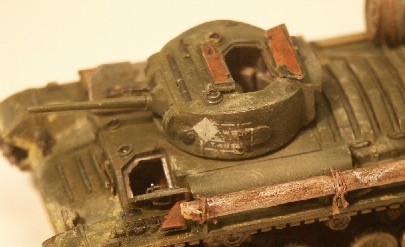 10. Above and below are photos of the competed Valentine Mark IV tank in Soviet markings for the 188 tank brigade, 20-th army, August 1942 [ACE Lend Lease tanks in Red Army decals set #D72001]. An unditching log is tied to the left fender, a fuel drum on the right rear, and the hatches are open.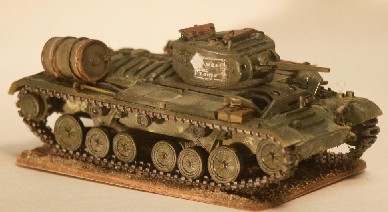 11. Below is the completed 6-Pounder armed Valentine Mark X mounted as a small diorama depicting troops of the Soviet 4th Motorcycle Reconnaissance regiment, 6th tank army, outside Bucharest, Hungary in August of 1944. The tank figures are late-war 1/76-scale Red Army tanker figures from AB; and 1/72-scale Soviet tank-rider infantry from Preiser.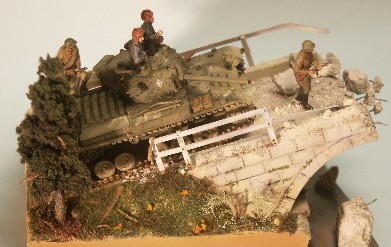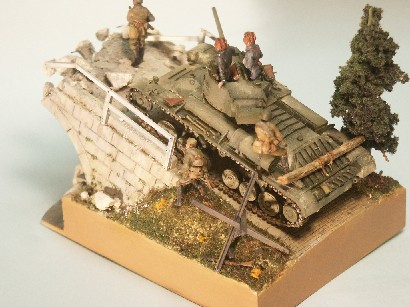 My References for this article:
BRITISH & AMERICAN TANKS OF WORLD WAR TWO, by Peter Chamberlain and Chris Ellis; published by Cassell & Co. (originally published by Arms & Armor Press in 1969). This is an excellent and inexpensive softcover book covering most of the American & British AFV's and their variants. Highly recommended.
Valentine Infantry Tank, Museum Ordnance Special Number 10; by Paul Roberts; Darlington Publications (1996). An excellent photo reference softcover book on the early 2-pounder armed Valentine. I believe that this book is, unfortunately, out of print.
http://www.battlefield.ru/lendlease/index.html. Russian Battlefield website, with a short description of Lend Lease Valentine tanks.
http://www.armourinfocus.co.uk/. Armour In Focus website from Chris Shillito with an excellent collection of reference photos.
http://ipmslondon.tripod.com/armourreferencearticles/id23.html. Great section on reference photos thanks to IPMS, London Chapter.
http://www.jagdtiger.de/index2.htm. Valentine Mk IV reference photos from Russia and France.
http://www.o5m6.de/armour.html. Oliver Missing's noteworthy website on Lend lease vehicles and exceptional artwork.