Converting Fujimi's (Nitto's) StuG III Ausf. D kit to a "Battle of Altdamm 1945" long-gunned StuG in 1/72 scale.



1. INTRODUCTION
Ever since I saw the below photo in Spielberger's book on the Sturmgeschütz, I knew this would be a fun and interesting conversion project. At the time I started the project back in the year 2002, the only kit available of the StuG Ausf C/D was the old Nitto kit, now packaged by Fujimi Co. kit #22. Now in 2008 I am just getting around to finishing this conversion and the corrections, just in time for Trumpeter Models to release their very fine 1/72-scale StuG Ausf. C/D kit # 07257. This Fujimi kit must be 30 years old or so and many parts suffer from simplified and just wrong details. Though about 1/76 scale in length, it's odd in being 1/72 scale in width! We have a choice of either to lengthen the hull to 1/72, or to narrow the width to 1/76, or just accept it as is? Obviously it's easier to add a little length which was done by adding to the engine deck and the bow plate.
Looking at this photo from Spielberger's book Sturmgeschütz & Its Variants we can see that the vehicle has been given a late war Topfblende [a.k.a. Saukopf or pig's head] mantlet and long 75-mm StuK 40 L48 gun. The book calls it an Ausf. C though it could also be an Ausf. D; there was essentially no exterior difference between the StuG C and D. Note that it lacks the cupola of the Ausf. G, it lacks the square pannier of the Ausf E and F, and it lacks the roof ventilator of the Ausf. F and the F8. According to http://www.stugiii.com/sturmartillerie.html this vehicle is from a Sturmgeschütz training unit and has been scraped together for the defense of Altdamm, the location of a Soviet bridgehead over the Oder River and now part of Szczecin, Poland.
The exterior paint is well beaten up and dirty, and the front track guards ripped or cut off, perhaps from several years of rough driver training. Though well beaten upon, I see no evidence that this Sturmgeschütz was blown up or burned.
Tools and other equipment are missing from the track guards implying to me that the vehicle was abandoned. On the side we can see a cross marking and forward of that there appears to be a vehicle number 3 in black and white outline; other modelers that have done this vehicle interpret this differently and have not put on the number. The weathered paint looks like it could be a worn whitewash camouflage, particularly on the lower side. There is a bracket for spare tracks on the bow but no spare tracks. I see no evidence of welded-on or bolted-on supplemental armor plates.

Here is a photo of Fujimi's injection-molded plastic model as packaged by Nitto of a StuG III D that was captured by Allied forces in North Africa and shipped to Aberdeen Proving Grounds in the USA. Though the superstructure is reasonably accurate the tracks are very crude band type, and the roadwheels and other parts simplified. We'll need a lot of scratchbuilding to get this kit presentable and accurate.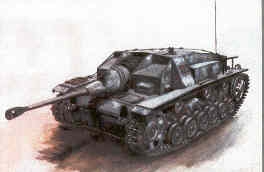 This is the TP Models version of the up-gunned StuG III Ausf. C featured in the photo above, in case you wish to save yourself the effort of scratchbuilding parts and enacting the conversion process. It is all cast resin with resin track lengths and is based on the old ESCI StuG III Ausf. G kit. I do not have this particular TP model but based on their StuG F8 kit I do have, it is a bit crude and rough cast but will build into a passable display model.
This scan shows us Fujimi's kit instructions for their Ausf. D kit with two mediocre crew figures, a simple engine and a simple crew compartment with a carriage and breach for the short 75-mm gun. Several nice things about the Fujimi model are that the transmission hatches, crew hatches and engine hatches can all be modeled open, unlike the Trumpeter StuG III Ausf. D and F kits, which have all hatched molded closed. The Maybach HL 120 engine and 75-mm StuK L/24 gun parts can also be used with another StuG, or Panzer III; the engine could also be used with the Pz IV.

This scan of one of two of Fujimi's sprues shows the lower hull and fenders at the bottom left, if you're familiar with the Sturmgeschütz you'll notice how it appears short compared to its width. Measuring it, it appears 1/76 scale in length but 1/72-scale in width. Above the hull is the Ausf. C/D superstructure with the open crew hatches, the opening for the gun sight is too small for this early version.
2. THE CONVERSION PROCESS

a) View of the right rear of the Fujimi kit after the rear engine deck and fenders have been cut off and styrene spacers glued in. The ESCI and the Revell StuG kits were used as guides to get the length correct. It was at this point that it was decided to totally remove the plastic fenders and replace them with Part etched [P72-118] brass fenders, designed for the Revell kit but usable here. Unused holes on the superstructure sides have been filled and smoothed over with white modeling putty. I find it interesting that the lower chassis did not have to be lengthened or modified. Fujimi's chassis sides [parts 3 & 4] appear to have been too long for the upper superstructure and did not have the appropriate overhang at the rear.

b) The front left quarter showing additional styrene sheet added to the bow. After puttying and sanding smooth a new weld seam was scribed in. This additional length unfortunately puts the transmission hatches too far back, hatches that are already too small for a 1/72 model to begin with. The roadwheel is from an ESCI kit; Fujimi's roadwheels are too 'detail challenged'; one example is the lack of the holes going around the hub.

Assembly of Part's etched-brass tracks requires some tricky bending. The set I have has additional brass fillets with tracks texture to be glued to the track faces to add some needed thickness to the brass tracks. Gluing these dozens of fillets on straight was difficult and they had a propensity to come off. Too much cyanocrylate [Super] glue will mask the nice detail. These are the only small-scale Pz III/IV tracks with open guide horns [a.k.a. track teeth]. Getting the brass tracks to adequately stick to the plastic wheels was not easy. What is great about this type of track is the natural sag that can be modeled.

The instructions for Part's etched brass fenders [track guards]. This turned out to be an excellently detailed part. Marketed for the Revell StuG Ausf. G, it worked out well for this odd conversion and I suspect it will work on the TP, Dragon and Trumpeter StuG Ausf. F/8 through Ausf. G Sturmgeschütz kits. For wat may seem like a simple part, it has a lot of parts! The pressed triangular supports indicate that this is for an Alkett produced Sturmgeschütz.

c) Skipping ahead in construction. A spare Trumpeter outer sprocket wheel has been used as it has the exposed bolts evident in the photo above. The Saukopf mantlet is a resin copy of Revell's old StuG IV kit and the L/48 gun with muzzle brake were both taken from the Revell StuG Ausf. G kit. Comparing this photo with the one above, notice that the roof opening for the gun sight has been enlarged to reflect a actual Ausf. C Sturmgeschütz. A spare radio antenna trough was taken from a Trumpeter StuG kit. The starter crank and crowbar on the track guard were made from copper wire and then fine wire latches added. A shot-deflector has also been added in front of the driver's visor. The tracks are PART etched-brass tracks for the Pz III or StuG III; fussy to assemble and a tad too thin but much better than the Fujimi, ESCI, Attack or TP Models tracks. The tracks in this photo have been primed with white primer acrylic paint. They have to be glued to the wheels with cyanoacrylate [Super] glue. Track supports for the early fenders have been made with thin styrene rod.
Two holes have been drilled above the driver's visor for the driver's periscope, lifting rings and wire grab handles have been added on the sides. Original Fujimi parts include the gun-cleaning rod (with an extra, third rod added), the headlights, the return rollers, and the driver's side viewport.

d) In this photo, the model does not have a bad case of a shingles, a skin disease! As part of the weathering and extreme wear associated with an old training vehicle I opted for the salt technique for showing chipped and worn paint. At Step-3 above, paint dark panzer gray on areas you are going to display worn; after the paint has dried and cured for several days we wet the to-be-worn areas with water and quickly sprinkle on salt crystals.
A tow cable made from thin string has been made and glued to the rear engine deck. Injection molded tow cables are typically too thick and poorly rendered to be convincing on a good display model. New, more accurate exhaust pipes have been made from solder wire. The jack has been detailed a little and tools scratchbuilt.

e) After the water and salt dries into individual crystals and clumps, lightly spray your model with the base color, Tamiya Panzer Yellow in this case. Use a very low pressure to keep from blowing the crystals clear off the model and adjust the paint viscosity as needed. We're going to lose some crystals so don't be too concerned; we can always reapply them as we wish. I planned on no paint wear on the mantlet and gun as it's to be a recent up-gunning. The hand tools and exterior gear will be painted in-place later.
A scratchbuilt gunsight is now added and sticks up out through the roof opening. It wasn't till the StuG Ausf. G that the gunsight opening got an armored cover.


f) In this Step-6 the paint has dried about 30-minutes and the salt crystals carefully then removed with a soft brush and tweezers. In areas light scratches have been made in the topcoat with a sharp knife blade further exposing the dark gray color underneath. My intentions for the paint and wearing are to represent an early StuG Ausf. C repainted several years later in panzer yellow, then worn off through a year or two of abusive crew training. A dark-brown oil pin-wash has now been added to corners and dark recesses. At this point I noticed that much of the delicate track detail was being lost beneath the layers of paint and cyanocrylate glue.


g) Here in Step-7 is the 99.9% finished model and my interpretation of this unique vehicle. On the side pannier is the vehicle number 3. The gun and mantlet have a splotchy two-color camouflage suggesting it be taken from another StuG during a rebuild at a repair facility. At this point it's obvious I did not go with a weathered winter whitewash scheme.

h) The stern of the vehicle shows the new exhaust pipes made from thick soldering wire and glued to Fujimi's mufflers. A tow cable on the engine deck was replicated with coarse thread.
3. CONCLUSION
This conversion project is a great exercise in taking a mediocre model kit and seeing what we can do with it to make it a better representation of an obscure model. There are still some details and proportions that are not done well. With only one photo we have to make a lot of interpretation and guessing as to what the other sides looked like and of what it looked like before it was abandoned. Here is where 'artist's license' comes in. As typically only one or two photos of any particular vehicle exist, I argue that every modeler must exercise 'artist's license' with most every model. It would have been easier and quicker to just use Trumpeter's StuG C/D kit recently released, but this Trumpeter kit did not exist when I started my conversion. Today I probably would not have started this awesome project but now that it is complete, I am glad I did start it. When we do a major conversion and detail project we come away with a model that is more truly ours, and not just someone else's kit we slapped together,
The final display on a polyurethane resin cobblestone street with building section made by HQ72 RESIN PRODUCTS; and with three Battle of Berlin infantry figures from Pegasus Models, and a StuG commander figure from Preiser. Spare T-34 tank tracks have been added to the StuG's bow as supplemental bow armor. Make your own judgement on the Part etched brass tracks.
The resin base and building section is painted with Model Master acrylic paints. MIG pigments were perfect for simulating the soil between the cobblestones and the mortar between the bricks. Brush the pigments in with a wet brush then after it's dry, wipe the excess off the stone and brick with a damp paper towel.
4. RESOURCES
Sturmgeschütz & Its Variants, The Spielberger German Armor & Military Vehicle series Vol. II; by Walter J Spielberger, and with vehicle plans by Hilary Doyle. Schiffer Publishing Ltd. (1993). A 250-page hardcover book that is about the best single reference book on the Sturmgeschütz. The photos are sharp and printed on good quality paper.
STUG III Assault Gun 1940-1942, by Hilary Doyle & Tom Jentz and color plates by Peter Sarson, Osprey Military's New Vanguard #19. This is a 48-page soft cover book in Osprey's series on historical and modern AFV's which covers the initial short 75-mm StuK L24 gun armed StuG's. This series strikes a balance between a historical reference and photo reference; the color plates are very nice but the 1/76-scale plans photos are not large enough and there are not enough photos.
Panzer Tracts 8 - Sturmgeschuetz to Sturmmoerser, by Tom Jentz & Hilary Doyle, published by Panzer Tracts, P.O. Box 312, Boyds, MD 20841. This and other books in the Panzer Tracts series are soft cover books featuring good representative photos and Doyle's 1/35 scale vehicle plans noted for their great accuracy. Panzer Tracts books are noted for being the most accurate and up to date publications on German WW2 armor.
Modeling the Sturmgeschütz III, by Gary Edmundson, and Robert Oehler. Published by Osprey Publishing, 2006. This is an 80 page softcover book featuring the assembly, detailing and painting of three StuG's, both short and long gunned. I like the idea of this book, quality is very good and am happy with purchasing it but I feel the 22 x 15.5 cm size pages are just too small for this type of subject that is so dependent on good 'big' photographs.
http://www.panzernet.net/panzernet/stranky/stihace/stug3.htm A fine website focusing on the Sturmgeschütz.
http://www.stugiii.com/sturmartillerie.html