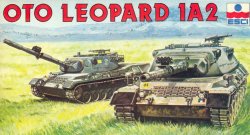 During the late 1960's through the 1970's this was the standard Main Battle Tank of the then, new, West German Army, replacing the US-made M47 tanks. It was also exported to Italy, Canada, and Australia. This was one the first versions produced on a large scale prior to the later introduction of turret skirts to add additional armor protection. The smoke-projector-like device on the gun barrel, seen in the box art and the built model, is a firing simulator used during training exercises.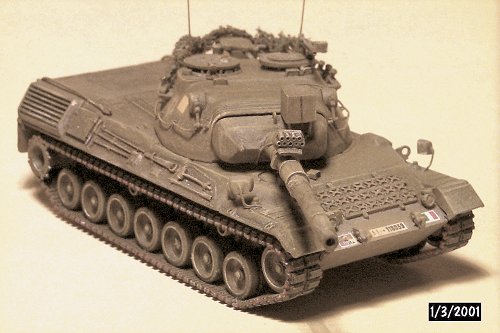 Leopard 1A2 model. I find the optical rangefinder (the bulges on the turret sides just aft of the mantlet) to be interesting. This is a system used on the M47 and was being developed for the Panther F and Panther II.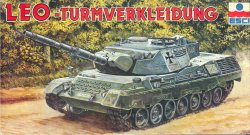 The Leo 1A1-A1. I understand this is a 1975-1977 production featuring additional turret skirt stand-off armor around the cast turret, otherwise it is the same kit as the Leo 1 A2 above.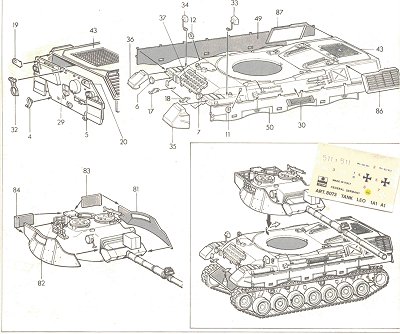 Part of the instructions for the ESCI Leo 1 A1 showing the parts going on the hull and the side skirts added to the turret. This is pretty much the same tank version as Revell's Leopard 1 A5 kit. The decal sheet is for one German vehicle. What these instructions do not show are that, alas, the twin roadwheels are molded as one wheel and the link & length tracks have no guide horns (teeth), similar to ESCI's M60 and M48 tank kits. I made a groove around each tire with a file, which helped a lot.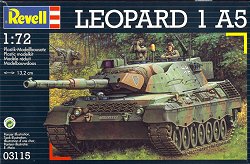 Revell's relatively new Leopard 1 A5, is an upgrade of older tanks, introduced in 1987. This version differs from earlier Leopards in having a new fire control system derived from the Leopard 2 tank. This model comes with markings for two German vehicles.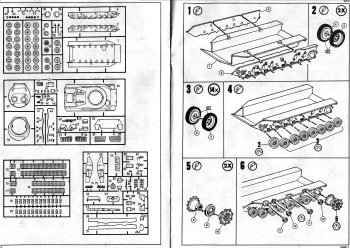 A part of the instruction sheet from Revell's kit. Besides assembly of the roadwheels (a significant correction over ESCI's models) this also shows the parts.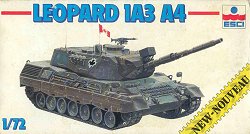 The Leopard 1 A3 A4 is a later production vehicle with a larger, welded turret replacing the earlier cast turret. The hull and suspension is basically the same as the other ESCI Leopard 1 models. This model comes in Canadian, German, Greek and Australian markings.

A comparison of the sprues for the ESCI leopard 1 in tan plastic above, and the Revell Leopard 1in green styrene below. I noted that the Revell hull and turret are slightly smaller than ESCI's kit. Revell also offers the ability to have all three crew hatches modeled open though neither kit included figures.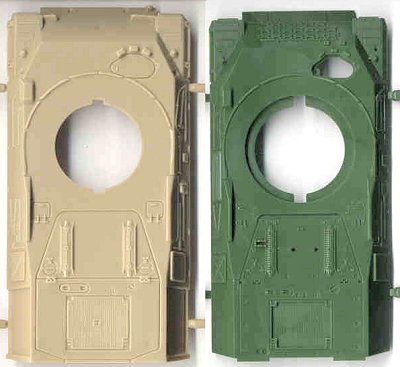 Overall both are pretty good kits. Revell has the advantage of newer model technology and the finer detail shows.