The veteran ESCI/Italeri Jagdpanzer IV
vs.
the new Hasegawa Jagdpanzer IV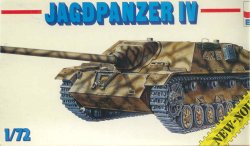 The ESCI kit has been boxed under several different numbers, and dates from the 1980's or so. It was (is) offered in two versions, the early variant SdKfz 162 with a 75-mm L48 gun similar to that in the Panzer IV; and the SdKfz 162/1 with a long 75-mm L70 gun like that in the Pz V Panther tank. The ESCI kit has been out of production since the mid-1990's though I expect it to be re-released by Italeri (soon?).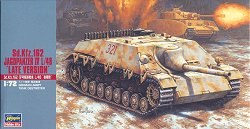 Hasegawa kit MT-51, Panzerjager IV L48 late
The Hasegawa kits are a recent year 2002-2003 release and like the ESCI kit comes in both the short and long gun versions, except Hasegawa has managed to squeak three different kits rather than just two. Kit MT-49 is the early L48 length gun with muzzle break, MT-50 with the long L70 gun, and now kit MT-51 which is the late short L48 gun version without muzzle break. For further information on the Hasegawa kits MT-49 and MT-50 I refer you to Doug Chaltry's very good in-box kit preview.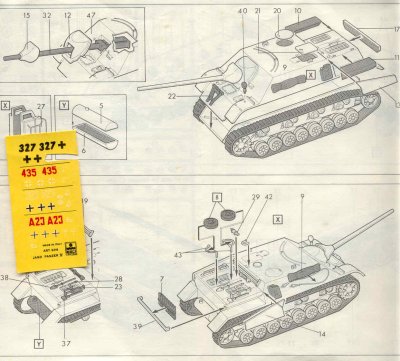 ESCI kit #8319 instructions and decals above.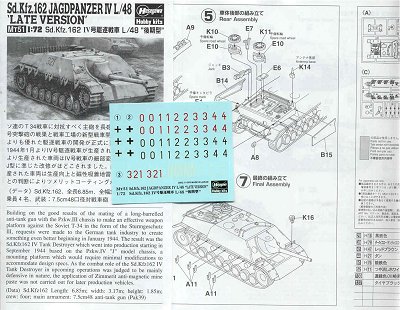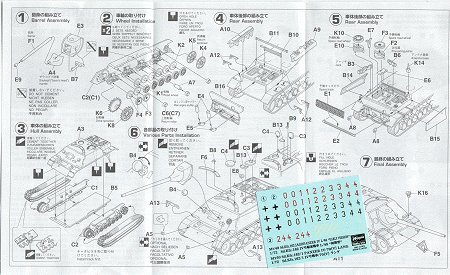 Above are instructions for the Hasegawa kit. All three Hasegawa variants share essentially the same parts and instructions except for different guns and the placement of spare tracks, tools, wheels, and number of return rollers. Kits MT-49 and MT-50 share the same water-slide decals markings. Kit MT-51 offers new decals.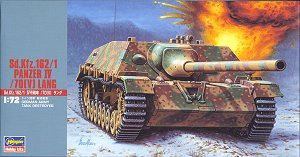 Hasegawa kit MT-50, Panzer IV L70 Lang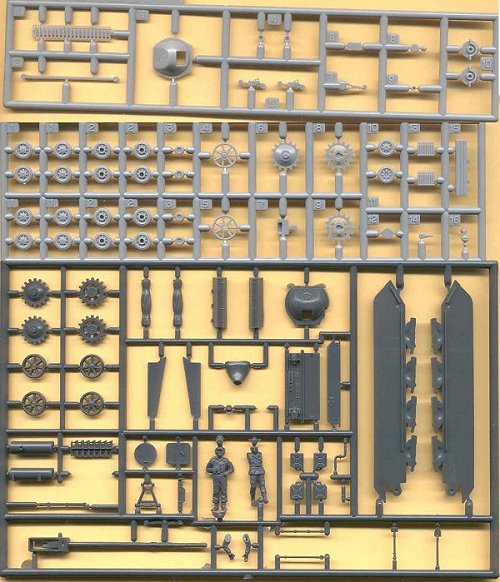 Above is a scan of the Hasegawa (top) and the ESCI parts (bottom). Hasegawa's roadwheels are new with the Wirblewind and Ostwind kits, not the old roadwheels that came with the old Munitionspanzer IV in the Karl Mortar kit. Hasegawa's roadwheels, sprockets and idler wheels easily surpass ESCI's for detail and accuracy. At the very top of the scan is the Hasegawa Sprue E which is unique to kit MT-51. ESCI supplies two decent crew figures while Hasegawa provides no crew figures.
Above is a comparison of the light gray Hasegawa Panzerjager IV superstructure and the darker gray ESCI superstructure. Hasegawa's dimensions appear more accurate. I have heard that ESCI's sits too high when assembled and is noticeably taller than the Hasegawa kit. Hasegawa offers open machinegun ports while ESCI molds the conical machine-gun port covers to the front plate.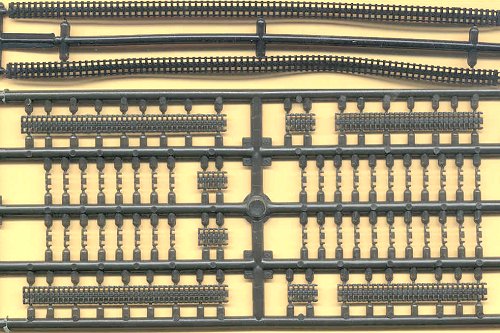 Above is a scan of Hasegawa's soft rubber-band tracks (top) and ESCI's hard styrene plastic tracks. I put Hasegawa's soft vinyl tracks better than ESCI's stiff polyethylene tracks; though ESCI's hard styrene link & length tracks are better than Hasegawa's. Still, all three are surpassed by Revell's link & length Pz IV tracks and PART's photoetch brass Pz IV tracks.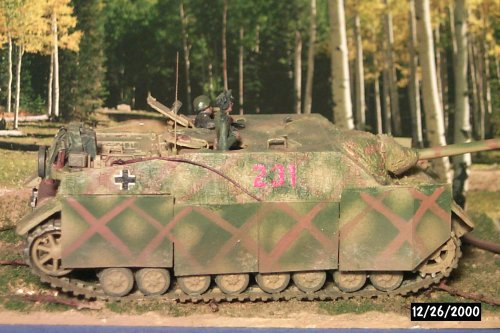 Above is a photo of a completed ESCI Panzerjaeger with short 75-mm L48 gun. The side skirts are scratchbuilt from plastic card. This version, built prior to September of 1944, has a zimmerit pattern simulated with modeling putty and a fine jewler's screwdriver. This model has the ESCI stiff rubberband-type tracks. I strongly recommend that you immerse these tracks in hot water, wrap them around a dowel and cool in a curve to match the sprocket and idler wheels, otherwise they will not sit down on the return rollers and may break. Worse still, they are so stiff that they could stress and break off the idler wheels. ESCI's stiff polyethylene tracks are also resistant to most all glues.
Extra Detailing available…
PART etched brass detail sets: P72 089 for SdKfz 161Jagdpanzer IV L48. P72 090 for Hasegawa's SdKfz 161/1 Jadgtpanzer IV L70.
ARMO resin conversions: AR72530 Jagdpanzer IV/L48 with zimmerit conversion for Revell Pz IV kit. AR72531 Jagdpanzer IV/L70 with zimmerit conversion. for Revell Pz IV kit. AR72532 Jagdpanzer IV 'Null series' conversion for Revell Pz IV kit (this is the initial version with rounded front edges on the superstructure).
ARMO 1/72 scale turned aluminum gun barrels: AR72707 7,5 cm KwK 40 L/48 barrel for Panzer IV Ausf. F2, G & H (this barrel should also work for the Jagdpanzer L48). AR72747 Jagdpanzer IV/70 gun barrel for Hasegawa MT50