I know what you might think: "with the newer Dragon and Zvezda Panthers Ausf. D on the market, who on Earth would use the older Revell ?". Well, you are right. But, you should consider that there is tough people out there who want a real challenge ... or, much simplier, that Revell Panther Ausf. D/A can come incredibly cheap. I bought one on Ebay for 1 euro, so this is how it all started.
Before getting our hands dirty, some terminology first:
1. Early Ausf. D (pre-June 1943)
Smoke dischargers; no rain guards over pistol ports, turret hatches and gunsight; no Schürzen.
2. Middle Ausf. D (June-Aug 1943)
Smoke dischargers dropped; Schürzen added; Hinge for cupola hatch moved 45° – now on the left; rain guards over ports, but not over sight; new armored covers on engine deck; armored cap for Schnorkel; asymmetrical travel lock; revised storage; revised cilindrical bin on left; sprocket ring with 32 bolts instead of 16; roadwheels with 16 extra rivets between the bolts.
3. Late Ausf. D (September 1943)
AA ring on cupola; no communication port; rain guard over gun sight; single head light; relocated tail light; armored cap for sprocket; roadwheels with 24 bolts instead of 16; chevrons on tracks; new armored covers on engine deck; relocated hatch handles.
1. Turret
You can see here an early Ausf. D. The arrows point at some typical features of an Ausf. D turret:
a) the drum-shaped cupola with periscope ports and a pivoting hatch; it remained unchanged in early/middle/late Ausf.D. Some authors believe that, in later Ausf. Ds, the A/G style cupola was mounted; others believe that Panthers with the A/G style cupola are not late Ausf. Ds, but rather very early Ausf. As. Oh, well ...
b) three smoke candle discharger tubes (Nebelwurfgerät) on both sides. They were discontinued in middle serie Ausf.D.
c) a binocular gunsight for the gunner, on the left side of the gun mantlet. It became monocular in Ausf. A and G. In late Ausf. Ds, it received a small rain gutter.
d) MP-Stopfen fire ports: three in total, two on the sides and one on the back. Without rain gutter in early Ausf. D, with a rain gutter in middle and late Ausf. D.
e) A circular communication hatch on the left side, with three conical bolts in front of it: without rain gutter in early Ausf. D, with rain gutter in middle Ausf. D, absent in late Ausf. D. It was meant to let tank crewmen communicate with soldiers fighting outside (although it might have been used for ammunition loading / shells unloading); it was discarded because it constituted a major weak point in the turret.
Now let's have a look at Revell turret:
Totally bare on the lateral sides! This is how Ausf. A looked like, not Ausf. D. You have to add the combination of hatch/fire ports/rain gutters/smoke dischargers you need for the type of Ausf. D you want to depict:
I added three fire ports, the circular hatch with bolts, all with rain gutters.
Notice that I had to rebuild the cupola. The one Revell gives you is not drum-shaped (it is rather conical-shaped), it has the wrong number of slots which are much too big. Discard it immediately.
Drill another hole for the binocular gunsight (Revell gives you a monocular one, like the Ausf. A), and create the rain gutter if you wish:
Create the smoke dischargers if you wish (most Panthers fighting at Kursk had them), add three lifting hooks on the roof and a handle above the posterior hatch and you are done here.
2. Hull
a) Engine deck. Here is the engine deck of an Ausf. D: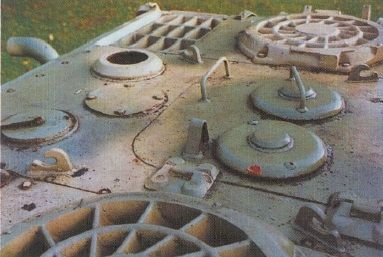 What Revell gives you is mostly correct. The deep fording air funnel with a protective wire mesh cover is correct for a post-April 1943 Ausf. D. Apart from the absence of three handles, Revell omitted the two hinges of the central panel. Here is what should be there:
In almost any Ausf. D, with the exception of prototypes and very early examples, there were protection wire mesh covers on air intakes and louvers, so remember to add them. This is my engine deck WIP:
b) Frontal periscopes. there should be four frontal peirscopes with covers, but Revell gives you only three, as in Ausf. A. You have to add another one. This is a photoshopped image showing where the missing one should be:
I decided to cut away everything and reproduce retracted periscopes, with visible covers only:
c) Anterior hatches. the position of handles is wrong, being typical of late Ausf. Ds. You should rebuild and reposition the handles if you want an early/middle Ausf. D, here is how: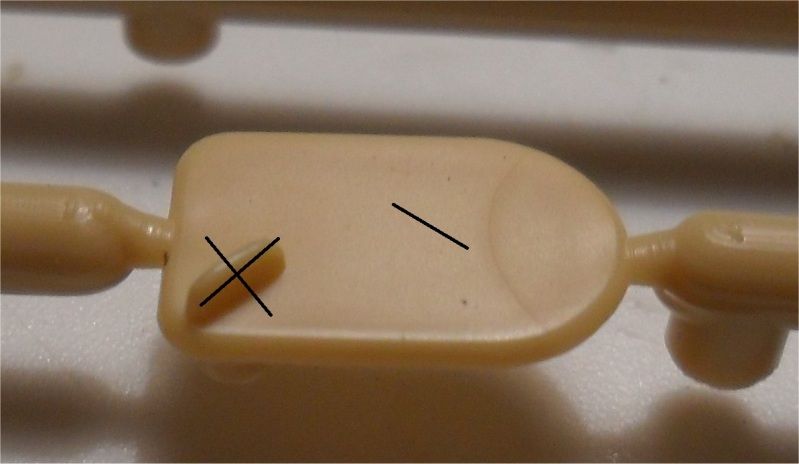 Here is how I did it:
d) Rear hull. You should add the horizontal metal strip interconnecting the exhaust pipes and the two towing rings. Also, remember that all early-middle production Ausf. Ds had the jack mounted horizontally below the pipes.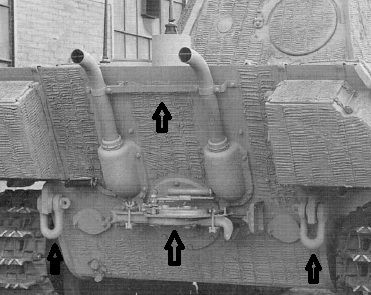 If you want, you can modify the superior aspect and closing hatch of posterior stowage boxes, which have an incorrect shape.
3. Wheels and tracks
Early Panther wheels had 16 bolts, later wheels had 24. Which one does Revell provide? Neither one: wheels have 20 bolts. Do you care ? I do not. Tracks are adequate.
4. Finishing
No 'zimmerited' Ausf. Ds before September 1943. All were painted in Dunkelgelb RA 7028, camouflaged with red brown and olive green. Panthers which fought at Kursk in the 52nd armored battalion were entirely painted in Dunkelgelb and camouflaged with olive green only, with a few exception in both green/brown camouflage and at least one vehicle in plain dunkelgelb with no camouflage at all. All had various shapes of panther's head stenciled on the turret sides.
Here are some shots of my finished Revell Panther Ausf. D: