I did loads of research over the years and recently got extra vital information through various Waffen Revue issues, Panzertracts and Panzerwrecks # 5. Combining this information led to finding some interesting details not known by many. (See here and here.)
The pictures are commented to reveal details and kit improvements that should lead up to a correct Maus # 2 as it was, just before it was blown up and captured by the Russians. (If someone has pictures of the upper forward engine decks of both Maus # 1 and 2, please contact me.)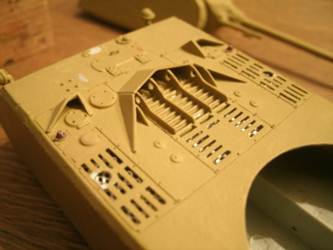 Upper engine deck bullet splash center armor is braced by four holed vertical braces. The outer ones have NO holes and are NOT connected/welded to the centre section. Maus # 2 had both its antenna installed. The exhaust grilles are NOT the same left and right !! Left side forward part is closed and has a round cover on it, its purpose unknown. (This detail is not known for Maus # 1 as there are no pictures known showing this section)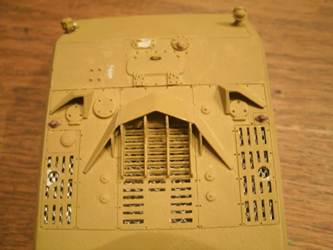 The four protruding bolts on the left forward roof are known for Maus # 1 but are NOT confirmed (yet) for Maus # 2 and their purpose is unknown. The driver/radio operator access hatch is installed but needs more detail. The lozenge shape recess outline and bolts are to be done. A periscope cover needs to be installed. Next to it is the bolted cover and little push through hatch for a periscope. The forward roof on Maus # 2 is one section but only on Maus # 1 it is in three sections. Maus # 2 had two headlights and wiring guides running upwards.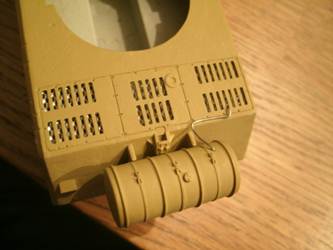 Maus # 2 had the auxiliary fuel tank, the middle strap still has to be corrected. A fuel line runs into the grating which is made from an aluminum anti-splatter baking screen. The Peagasus hull will need more sunken round "casting dimples" along the edges to be correct.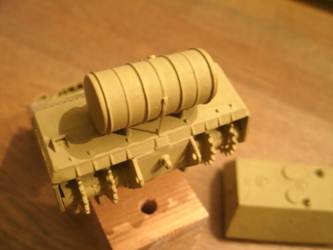 Corrected fuel tank middle strap lower side. Maus # 2 had a rear light with rain guard. This one needs to be thinned. There are seven mounting bolts/studs and eight eyelets on the rear lower armor. A special track pulling winch needs to be installed. Maus # 2's rear armor does NOT have the two large square welds. These are specific to Maus # 1 and mark the place where the flamethrowers were to be installed, but subsequently dropped.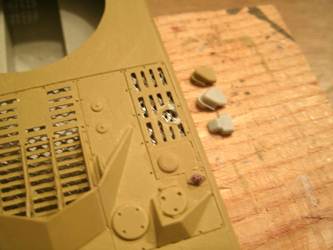 Maus exhaust from different kits: the upper is Pegasus, the lower two Dragon. For Maus # 2 they are all three wrong!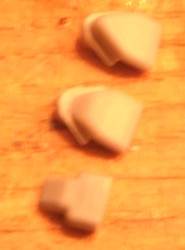 The exhaust in the middle is correct for Maus # 2. It has a flattened and straight backside. It is installed with three protruding bolts, but the round hole under the triangular base plate is still to be visible. Next update will go into this further.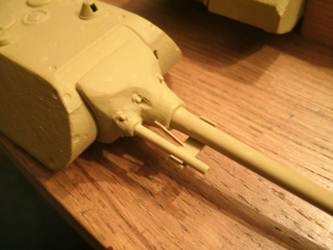 The antenna protector/gun brace has a little flat strip in the middle, connecting it to the mantlet.
The upper side of the mantlet was trimmed to save weight. Its correct shape is well visible on several (Kubinka) pictures.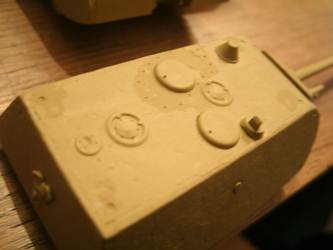 Maus # 2 turret had its round MP ball mount holes in the side armor plated off with slightly protruding round (welded shut ??) covers. The threaded bosses on all four corners were plugged in recess; the Russians drilled new crude holes to install towing eyes to drag the turret from its blown hull. (Much ?) Later they installed it onto the hull of Maus # 1 to be displayed in Kubinka.
The two crew hatches are NOT hinged. They pop up and pivot sideways. The left viewing periscope was deleted because it was in the way of the dome aiming periscope. The hole(s) are welded shut with two round covers, but the round opening was still found on at least two of the next five turrets.
The lozenge shaped row of threaded holes around the commander's hatch is to install deep wading equipment. It seems to be unique for only this (first) turret.