Modelling the German 8-wheeled Heavy Armoured Cars Sd.Kfz. 232 and 263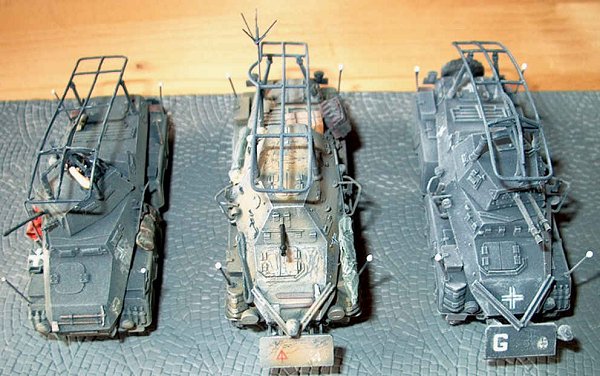 First of all I have to admit that I do have a weakness for multiple wheeled cars especially 8-wheelers. The properties of these unique vehicles have been kept on up to present day by the Bundeswehr "Luchs" (Lynx) although technically both armoured cars share a rather distant relationship. The fact that the Sd.Kfz 232 and 263 carry a frame antenna makes these vehicles even more interesting in my opinion.
ALBY
The first model of this kind I purchased was the ALBY Sd.Kfz 232. I was very excited of actually receiving the model because this was going to be my first resin model. The resin quality of ALBY kits and also the casting was exceptionally good. I don't want to repeat all the facts that every experienced modeller knows about ALBY's kits (no bubbles, little flash etc...). I was so amazed by the model that I almost forgot the disadvantages of the kit.
ALBY kits are very hard to come by, so hard that even shop owners get so frustrated that they even refuse to order kits due to the company's unreliability. When you finally find a dealer, it can be that he'll make you pay exorbitant prices for these. Fortunately Tracks-n-Troops maintains affordable prices and a good service; that's where I got mine from.
The second thing that bothered me is their almost painful lack of what I call "the stuff around the model".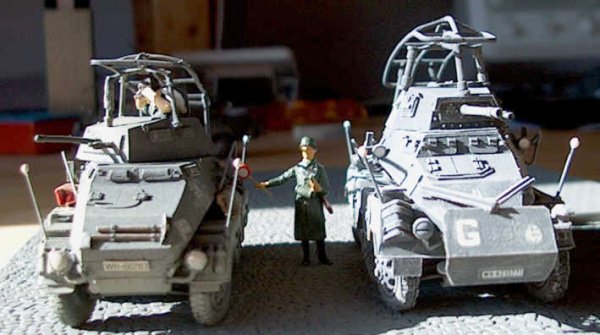 Decals, accessories, figures, good instructions and all those tiny little things that makes Doug pay more than 20 Dollars for a Greyhound armoured car, but that's, of course, another story. You will find nothing from above inside the package of ALBY's 8-wheelers, they just pass you the bare model which requires some scratchbuilding. Compared to MarS, ALBY has very few parts and construction proceeds very quickly. Mudguards and hull were produced as one piece. The gear is reduced to 8 suspension axles and the wheels; the kit neither provides the often-used spare wheel nor its mounting on the back of the vehicle.
The parts are very few but exceptionally detailed, the two exhausts have a nice grid like surface that even the 1:35 kit does not feature. These are the things I liked the most, adding to the hollow turret and the good look of rimmed profile of the wheels.
The biggest advantage of ALBY's kit is the rough surface of their soft resin, which make them most comfortable to work with. You won't need a saw to remove the remains of the manufacturing process, unlike MarS. Most annoyingly there were only instructions for a SdKfz 263 not 232 in my box, also the middle stay of the aerial antenna was missing. I don't want to blame anyone but ALBY for this. I used guitar strings to add the distance indicators and the large triangular handles on the side of the vehicle just below the turret. It was a bit disappointing that the kit didn't have these. "Maybe I'm just a lazy bum," I said to myself, and barely managed to get this stuff in the right position. Looking below the armoured car you find no details, just the ALBY brand name in the centre.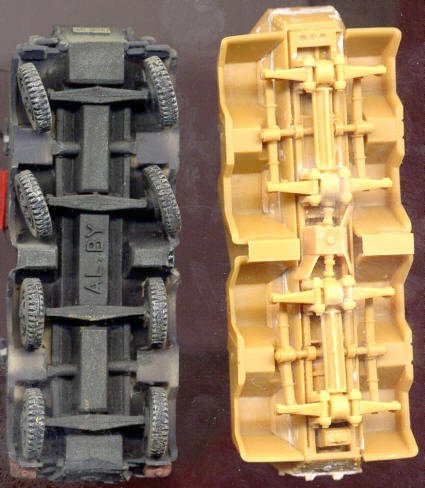 MARS
The MarS kits differ a lot from ALBY's; they really deserve their name "kit" because they have over 100 parts which are perfectly detailed. I have to admit that this is the most astounding resin kit I have ever seen, not only considering the large amount of parts. The resin quality is also very different, while ALBY features a soft white, easy to cut resin with a rough surface, MarS resin is more hardened and a bit more difficult to handle. The hull has large extents where the resin was injected into the molds, it is impossible to cut them off with a knife, you need a saw to sever these extents. Again, be careful when you are sanding/sawing, I heard about a modeller who lost consciousness and was brought to hospital because he inhaled resin dust. This model is made of injected resin, (review Doug's Multimedia article), this is reflected by the fact that every part has these injection remains that need to be carefully removed. This is slowing down the construction phase and requires lots of attention.
Detailing of the MarS kit is in some parts better then ALBY's, simply look at the barrels or the nicely-cast hatches with splashguards. The wheelcaps are not flat like ALBYs and the MarS kit has generally a much more three-dimensional look, that's where MarS scores but some shapes seem to be worked out too exaggerated. I think the underneath of MarS is the biggest strength, it is so nicely detailed that "crash" diorama showing a SdKfz lying on its side is almost a must. The Zerschellerplatten were added after the end of the France campaign in 1940, a nice add-on if you wish to build such a vehicle. Adding to that, MarS delivers more miscellaneous stuff like 2 fire distinguishers, 3 large boxes that were also commonly used and seperate pioneer tools. They also let you choose which kind of smoke dischargers you wish to have (if you swap with another MarS kit), you get one of these triangular boxes (which are used for stowage) and one four-tubed smoke discharger. ALBY's has them already molded on.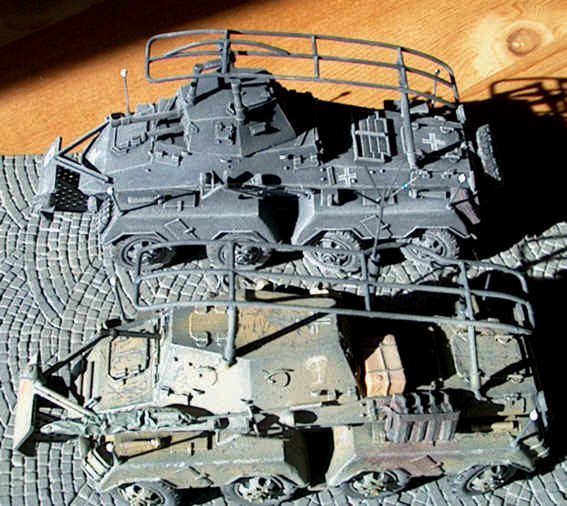 Unfortunately the mounting for the sparewheel is already casted on the back of the vehicle so it is almost impossible to use the often applied Balkenkreuz here.
DIMENSIONS AND SHAPE
I'm not only into building 1:72, they are a major part of my work but for having good references I also follow events on the 1:35 market. Forgive me this Blasphemy but I think it is the kings-class of AFV modelling because it is not inconsistent like our small scale market. Basically I built my MarS SdKfz 263 with Tamiya's instruction sheet. I photographed both gears and as you notice it's sharing most details with its 1:35 big brother. Astounding!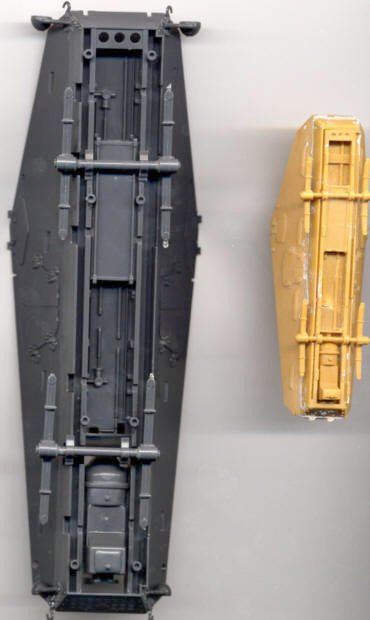 Now let's get back to business, I bought a diameter and measured the kits with the following results:
I used measures from "Die deutschen Panzer 1926-1945" by von Senger und Etterlin
Length: 5800mm
Width: 2210mm
Hight: 2340mm (SdKfz 231 and 232 only)
I measured the length and realised that MarS length is correct while ALBY is 1,5 up to 2 mm too small which is acceptable. ALBY's kit is 0,5mm too narrow and MarS 0,5 too wide which is really good but not if you're going to use both too close on a diorama (causing the MarS kit to look even larger).
The most worrying outcome is that the MarS wheels are sized with 13mm radius and ALBY's 12. They also differ in profile, ALBYS look like the common used rimmed wheels, MarS used wheels that seem to be tropical wheels. I'd be grateful if anyone has input about these wheels because I only have 1 photograph showing the rare "MarS" wheels on a SdKfz 231, probably in France 1940. If anyone has input about wheels I would really like to hear from you. The difference of the wheels is causing the MarS SdKfz being much higher then ALBYs.
All in all, the results are satisfactory, but you better stick with just one manufacturer if you wish to place more then one vehicle in the same diorama.

If you compare both vehicles, (SdKfz 232), standing next to each other, you notice that they differ a lot in shape and dimensions. I think creating a real accurate copy of the SdKfz 232 without a computer is almost impossible as it has so many angled suraces and weird measures, maybe the correct shape must be something in between the MarS and ALBY kit. ALBY's top hull is too wide, while MarS seems to be a bit too narrow; you notice this when you look on the engine coolant grid of the back of the vehicle on the MarS kits.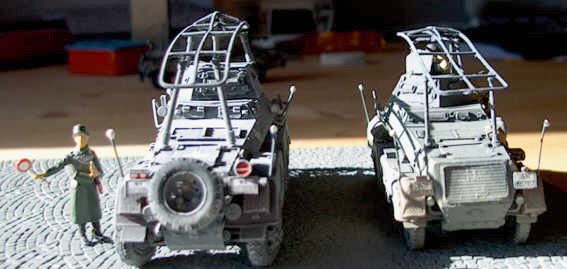 SDKFZ 263
I do not own the ALBY SdKfz 263 and im not even intending it to buy it. From the instructions I have it is about the same kind of kit like the SdKfz 232, just with another hull and the SdKfz 263 frame antenna plus the antenna mast. The MarS Funkwagen is likely the same kit too, just featering another body and antenna equipment. TAKE NOTE: This kit has no Zerschellerplatte as shown on the photographs of the built vehicle, its also missing the spare wheel, smoke dischargers and the jerry can. All other items are featured.
SDKFZ 263 1:35 SCALE COMPARISON
As you might have noticed, my SdKfz 263 is a DAK vehicle, it's sprayed in Panzergrau (Revell 78) and was oversprayed with Dunkelbraun (Humbrol 93). To be honest I was mostly inspired by Fabien Décamps "Funkwagen" article on the Missing Links site which deals about 1:35 solemnly. So I consequently lifted all his ideas and transferred them to my 1:72 kit, I hope he's not going to sue me :-). Unfortunately I was unable to make a direct copy of his fabulous kit (he plays in another league I guess) and to simply copy 1:1 would've been dull at all, so I modified it a little :-). Fabien used tactic marks for a Nachrichtenkompanie, which look really cool but I was unable to find some in 1:72 so I simply took a divisional mark and marks for a Panzerspähkompanie (ESCI) which makes the model a little more colourful.
Talking about Swastikas: I'm no Nazi and it is really hard obtain the DAK Palm with a Swastika, (old ESCI Panzerjägerkit), I was hesitating to use these because I had never done this before and it is strictly forbidden to display these models in public. I hope your feelings are not being hurt by the use of historical correct DAK markings. I added the Zerschellerplatte from another MarS SdKfz 232. The sternantenne is also not supplied and was added by using wire.
The paint seems to be worn off and scratched, I hope I did not exaggerate aging because this is the first feeling I have when looking at the model. I tried to spray less Dunkelbraun on edges just like Fabien did, after drying out I started scratching it off with scalpel and fingernails. I read a good article on Miniaturezone about Fe2O3 powder technique, my brother studies chemistry, so he passed me this stuff and I used it on the jerrycans (the only spot where rust can be in my opinion).
SDKFZ 232
My built SdKfz 232 are both participants of the French campaign in 1940. I added the narrow white Balkenkreuze by TL-Decals (can be reached at www.TL-Decals.de). Tactic marks come from Matchbox Funkwagens and ESCI SdKfz 250. I drybrushed both with light grey and sealed the paint with clear matt varnish. I would not recommend using brushes to actually paint the vehicles as they are highly fragile and need to be handled with special care. I break off parts occasionally, thank god that there's superglue. I gave the wheels some angle so that the models don't look too flat and lifeless. Fixing wheels on the MarS can be real nasty and sometimes you need to cheat a bit to get a proper alignment. Basically I found the MarS kits harder to assemble (no wonder just look at the suspension) but more satisfying when I completed the work.
DISADVANTAGES OF BOTH KITS
The worst thing I found about these resin kits is that the hulls are one solid piece, they are nicely detailed but almost none of the hatches or vision flaps can be opened. Only ALBY's 232 features a hollow turret and seperated commanders hatch that can be displayed open. Now you have to think that visibility for the crew was always bad inside a SdKfz 232 especially for the driver, on most photographs you will notice that most of the vision flaps are open or at least the ones that surround the drivers seat. Now imagine you're not in central Europe but in the boiling sun of the northern Sahara, inside a giant of steel that seems to absorb all the heat, much worse than a car without air conditioning. You see what I'm aiming at: most photographs of African vehicles show them with all hatches and flaps wide open. This cannot be realised with both kits, neither engine or maintenance hatches, too.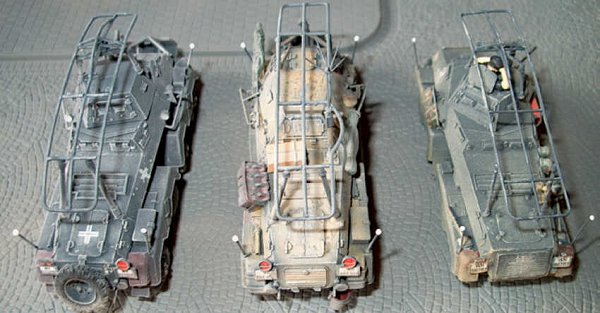 POST SCRIPT: MarS released the SdKfz 233 that seems to have the possibility to open the vision flaps, it looks awesome!
Neither kit features decals, we are used to that when we buy expensive resin kits and it is not a reason to be annoyed anymore, but EXTRATECH is a good example to supply us with a "complete" resin made model. We can only hope other Kitmakers will be convinced or encouraged to follow EXTRATECH's way.
RECOMMENDATION
It is truly a difficult decision because both kits are worth a try. The MarS kit seems to afford much more value for your money, it has many more parts including more options, (Zerschellerplatte) and additional items. The gear and suspension is far superiour to ALBY's and it provides parts that ALBY misses (handles on the side, distance indicators, spare wheel). Availability of MarS is also better then its competitor.
I would recommend ALBY's kit for real lazy modelers (like I used to be), apart from the features that were not included and need to be made of wire, assembly is done very quickly and you can start painting without much interruptions if the paint job is the centre of your work, and not construction. If you wish to build a real accurate model it requires some more own work leaving space for a little bit of creativity.
Considering a 100% scale I'd give MarS 85% and ALBY 69%.
I'm really curious how the German MF kit offered at United-Fun will be. I couldn't obtain one yet but it's hardly imaginable that it's going to outclass the MarS kit. I hope that ALBY won't be annoyed by this article, but the quality of MarS cannot be doubted. I'm also looking forward to obtain a SdKfz 233 kit from MarS as well, to complete my collection of 8-wheelers.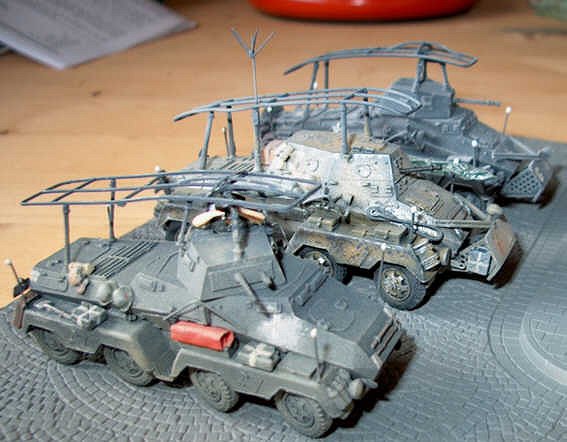 Bibliography and References: Tamiya SdKfz 232; Der Landser "Panzerspähwagen vor"; Panzer und Kettenfahrzeuge, Jean Restayn, Bechtermünz/ Weltbild Verlag 1998; Die deutschen Panzer 1926-1945, F.M. Senger und Etterlin, Bernard&Graefe Verlag Bonn 2000; Polish Colour profile Niemieckie Samochody Pancerne 1921-1945, Z. Lalak, Marius Skotnicki&Pegaz-Bis.