I was born in Hamilton New Zealand in 1966, Yes that makes me 42. I moved to Auckland at the age of 4 and a few years later and got into modelling through my Uncle who, one Christmas, gave me 25 old Airfix kits of his. I was hooked!
Years later at the age of 15, I "shelved" modelling. (Studying, then Music/Clubbing/Girls/Travel etc. took over as my main interests.) In 1988 I moved to the UK, coming home in 1992. I married my wife Marise in 1994 and went back to the UK with her and that is when I picked up modelling again. I found the Airfix DUKW in a Ramsgate Model Shop window. (I could never find that kit as a kid!)
Highlights in the UK were' Trucks n Tracks' Show in Folkstone, IWM Duxford and the IWM Photo Archives in Vauxhall, London. (I'll make sure I get to the video library next time!).
Back home to NZ in 1998 after travelling through Europe, Middle East and Africa.
I now work for NZ Telecom as a Broadband and Document specialist for adding procedures to our intranet site.
My wife Marise is quite supportive of my modelling as long as I tidy up every night!
Marise has also just finished her Law degree.

We also have 3 lovely kids,
Lily, 9 years old, who love her Irish Dancing and Soccer;
Conrad 6, into Tennis and playing with his Lego; (Future modeller?)
Heath 4, loves Hot Rods and his collection of plastic guns and knives!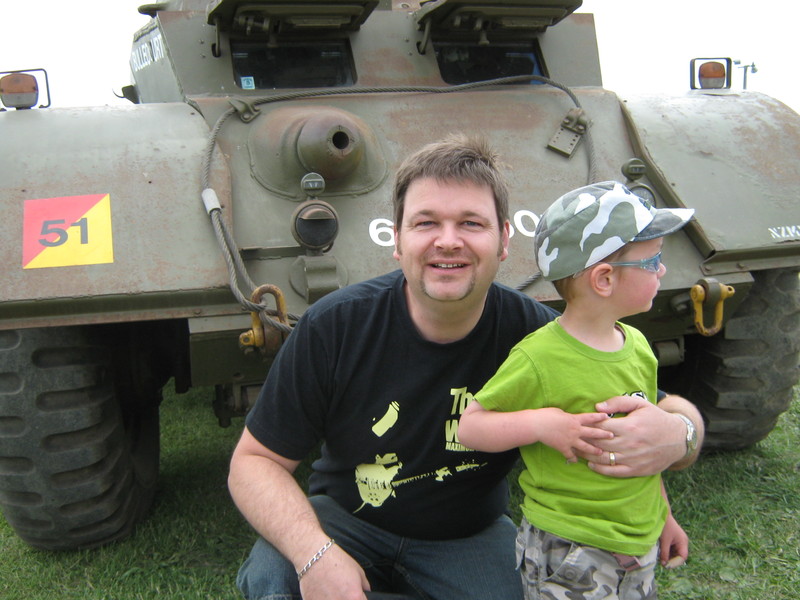 Heath and I in front of a Staghound at the Cambridge Armistice Show. 'Heffy' being distracted by a Centurion tank rolling past!
After building 1/76 plastic and Milicast/Cromwell kits early on, I switched mainly to 1/72 when Revell started making kits and the British 'cottage industry' kits were getting hard and expensive to get in NZ. I have kept my range to AFV's (and Aircraft) of the bigger players of WWII.
My favourite subject is markings of British units in Europe which lead me to help Johan of Bison decals with his first 4 British decal sets.
Then I discovered Pat Storto's AFV Museum on the Internet, along with the Missing Lynx Braille scale forum. Interest in Tiger/SS/Normandy units was next, thanks to the researchers that used to be on the Axis Missing Lynx Forum.
Last year I was involved in helping with starting up the Braille Scale Competition site and now get to Judge loads of great model almost very other month.
With 'On the Way' being another favourite site, I'm glad we could get it up and running again and have some small part giving something back to the hobby by adding some hopefully helpful previews etc. here.
Lastly I would like to thank Doug Chaltry for being the creator of such a good site and now Rob Haelterman for doing a lot of the work here, especially all my editing!