Cromwell Mk. IV
Manufacturer: Revell AG. (Kit #03123)
By Till Huber - NalarMidas(at)web.de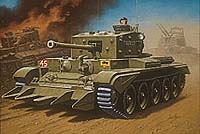 List of contents:
Instruction sheet
Decal sheet with two options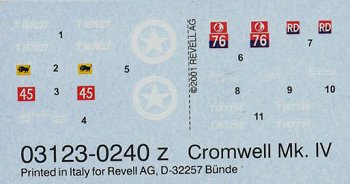 This is the first injection molded 1:72 Cromwell kit in history and fortunately it seems that it's up to the same standards as all the other Revell releases. I'm not talking about the recycled Hasegawa Crusader kit, because this kit has nothing to do with any released model before as speculated. This is the first decent, Revell-produced British WW2 vehicle and I think our British braille modelers will be cheering to have this important tank as plastic kit. I have to admit that I know very little about English tanks, I think they were always underestimated and maybe under-represented in our scale. I strongly agree with Doug's point that the British vehicles seem to be the nicest models that ESCI ever made.
The kit's shape is very good, at least the width is exactly 1:72, I couldn't measure any other parts without starting assembly.
FUTURE EXPANSION?
I'm not sure in what way Revell will setup a Centurion or Cromwell series based on this kit but let's be patient. The boxart shows a double barrelled antiaircraft version based on the Cromwell gear, a hidden clue of what is coming next?
It is also imaginable to make a Comet tank, I wonder how the kit can be converted. I'd be very grateful if somebody can make comment on a Cromwell conversion.
SPECIALS ABOUT THE CROMWELL
The turret has the nicely molded bolted armour plates and the commander's hatch is molded open.
The kit does have the hedgerow cutting device. It's one piece and can be either attached or left off. I think it can be also used on American or other Allied tanks serving in the area of north France. Note that you also have options with the exhaust grates on the back of the tank. You can choose to cover it with some kind of canopy or leave it open.
To my biggest disappointment the viewport for the radio operator on the front has been molded shut. The loader's hatch on the turret and all other hatches placed on the hull have been molded shut as well. Engineer tools are very little, and they've all been molded on the left side of the nice hull.
DECALS AND CAMO
The decals are great; they're much better then they appear to be on the scans. First version is for the 11th Armoured Division, in Flers 1944. The second version is for an artillery observation tank of the "5th Royal Horse Artillery" (regiment?), June 1944.
I was searching for any coloured references because Revell suggests to mix their colours, (70% Rev 65+ 30% Rev 48), which I really dislike, because you can never find the right colour that way and it's impossible to meet the same tone again if you run out of paint. Interestingly, I found in Jean Restayns "Tanks of World War 2" a colour profile of exactly the first version with the "Jean" graffiti. You can hardly see it on the scans but it is there. Revell must have used this book for research I guess :-).
RECOMMENDATION
It looks like we're being overwhelmed by good kits, next month it is Bradley time. I hope that Revell won't hurt competitors and smaller manufacturers too much as they are flooding the market extremely.
Kit availability, quality and accuracy is great; it's a must buy not only for British armour fans.
---