Tiger II Ausf. B
Manufacturer: Revell AG. (Kit #03129)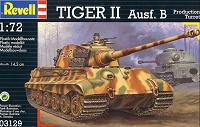 So, did Revell intentionally steal Italeri's thunder with the release of a competitive King Tiger kit? Or was it in their plans long before Italeri decided to re-release the old ESCI Tiger kit? I suspect the latter, but regardless, it was rather bad timing as far as Italeri is concerned, because this new King Tiger is a much better kit in most regards (but not all, surprisingly). For specific comparisons between the two kits, please refer to my King Tiger Comparison article.

Sprue 1 shows one of the things I like best about the way Revell engineers their latest kits: the chassis molded as parts separate from the lower hull. With the advent of link-and-length tracks, it is most difficult to attach tracks beneath over-hanging hull sponsons (it was difficult even with the vinyl tracks). With the separate chassis parts, it is possible to completely paint and assemble the wheels and tracks, before having to attach them to the hull. This is incredibly helpful, and I wish that other manufacturers would do this regularly. You can also see on this sprue some separate pioneer tools, which is very good. But for some reason, Revell molded some other tools directly onto the hull, such as the axe, hammer, and fire extinguisher. That is unfortunate. Spare track links are included for hanging on the turret sides.

Sprue 2 holds the upper hull and other details. The hull is fantastic, fully up to the current standards set by Revell's other kits. Too bad the hull hatches are molded shut. Revell seems to be very inconsistent in such details. Some hatches are molded closed, while others are molded open (on the turret); some tools are molded onto the hull, others are separate; some periscope covers are molded open (cupola), and others are molded solid (driver). I find this very odd. Do they do this only to give nit-pickers like me something to complain about? Anyway, back to the kit ... Although it is not real obvious in this scan, the AA machinegun is fabulous; nice and petite, and very detailed.

The turret sports open hatches, which is very good. Now where are the figures to put in them? I guess we have to stick with Preiser for the time being. The turret hatches, on the previous sprue, have no interior detail. The shape and detail of this turret is very accurate, and has the pilzen common to later Tiger II's. The two odd-shaped pieces above the turret are supposed to be protective, anti-grenade grates for the engine deck. Of course, they look pretty poor molded in plastic, and are best replaced. (Note: this sprue is clearly marked "Henschel" because Revell will later release the Porsche version of this tank.)

The wheels are extraordinarily well done.

As are the tracks.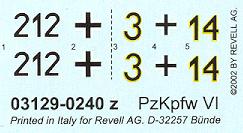 The markings are simple, giving two options: one eastern front, one western front. Although thin, as you can see, they once again are printed out of register.
I go into greater detail about the kit's accuracy in my King Tiger Comparison article, but I will summarize here by stating that this kit is very accurate, with only very minor errors.
Overall, once again, this is an excellent kit. But did we really need a new King Tiger? If this was the Porsche version, then I would have said yes, but we'll have to wait a little while yet for that one to be released. Until then, we'll have to stick to resin conversions. But even considering the high quality of this kit, I was perfectly content with the ESCI/Italeri Tiger II, and I think that we would have been better served had Revell GIVEN US A DAMN SHERMAN INSTEAD!! I mean come on now! There were more Sherman tanks built during WW II than all of the German tank designs combined, and yet we still have no decent Sherman currently available in 1/72nd plastic. But I digress ... This is another great model, of another German tank, and I'm sure that next year Revell will bless us with more great models of yet more German tanks. Oh boy, I can hardly wait.
I think I need to go take a prozac ...
References:
Encyclopedia of German Tanks of World War II, by Chamberlain and Doyle
Tiger in Action, by Culver (Squadron/Signal)
Panzers at Saumur No.1, by Ichimura (ed.)
Achtung Panzer No.6 Panzerkampfwagen Tiger, by Bitoh
Photosniper No. 7, Tiger II Ausf. B, by Parada, Suliga and Hryniewicki
---