Tiger I
Manufacturer: Revell AG.
Tiger I Ausf. H Kit #03108
Tiger I Ausf. E Kit #03116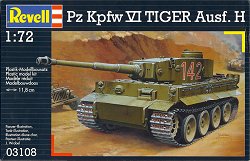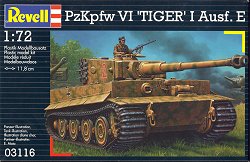 The Revell Tiger I Ausf. H was the first Revell kit I ever built (see Review), and it set the tone for Revell's future kits, as far as my expectations of quality and accuracy. This was their first really nice kit (the earlier Panthers are pertty well done, but with some notable errors), and set a new trend for high-quality small scale armor models. All of their later models are spectacular kits, and these two Tiger tanks totally blow away the competition (the Hasegawa Tiger series).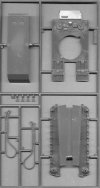 The two kits share the majority of parts. The Ausf. E kit contains an additional sprue of steel wheels, and the two kits each contain a unique sprue which includes parts for each specific version (pictured below). These first three sprues show all of the shared parts.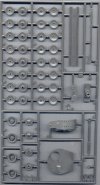 My Tiger Comparison article that compares the Revell and Hasegawa kits pretty well describes the strength of these two kits. One of my few complaints about this kit is the heavy gun barrel, which is too massive. Luckily, ARMO has recently released a replacement barrel of turned aluminum.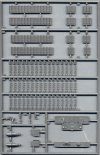 The tracks are some of the finest plastic link-and-length tracks I have seen.

This sprue shows the parts unique to the Ausf. H. As you can see, it has the specialized air filters, squared muffler guards, cylindrical cupola, and the narrow front mudguards unique to the Tigers seen in North Africa. The right half of the turret includes a locating hole for the machine pistol port cover.

This sprue contains the parts unique to the Ausf. E. It has the wider front fenders, the smaller cupola with periscopes, the rounded muffler shields, AA machinegun and mount, and the right side of the turret has an opening for the escape hatch.

These are the steel wheels included with the Ausf. E kit.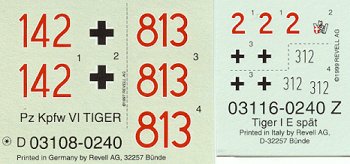 The decals on the left are for the Ausf. H, and the set on the right is for the Ausf. E. Like other Revell decals, they are very thin, matte, and well-printed (this set of Ausf. H decals is printed in register, but the set included with the kit I built was not). Apparently, new research has proven the the red No. 142 markings should actually be only white outlines.
As I mentioned in the Ausf. H Review, that kit allows for the construction of only a very small number of unique Tigers (about 3% of the total Tiger production). The Ausf. E kit allows for much greater latitude. Unfortunately, about one third of the Tigers produced had turret and hull details intermediate between the two, so you must purchase both kits in order to build such a Tiger. Numerous etched brass and resin detail and conversion sets are now available for these kits.
---