T-34/85
Manufacturer: Revell AG. (Kit #03130)
I am not going to delve in great detail into this kit, since Stephen Brezinski did so admirably in his T-34-85 Turret article. I will also soon update the T-34 Comparison article to include this kit in the side-by-side comparison scans (check back in a week or so).

As with all of Revell's newest kits, this one is a superb example of model engineering, with only a few minor deficiencies, those being the closed driver's hatch and no crew figures. The molding quality is first-rate, with no flash or sinkmarks on my sample, and the detail is very crisply molded. (This paragraph was taken verbatim from the Leclerc Preview, which shows how consistent Revell is.)

I am planning a simple conversion with the Eastern Express T-34-85 kit. The EE kit has an open hatch for the driver, but closed turret hatches. It will be a simple matter to swap turrets to build one T-34 completely buttoned, and the other one opened up with crew figures (not included in either kit).

The markings are simple, giving two options, and for once, they are printed in register. Of course, you may ask yourself how could they possibly print single color decals out of register, but I was beginning to think that they would find a way.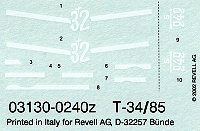 According to all reports I have heard about this model, it builds into a fantastic replica of this famous tank with little hassle. However, there appears to be a problem with the tracks being just a little bit too short. Several people reported the same problem, so apparently it is a design flaw in the kit. There are several etched brass track sets available from PART, which would take care of this problem, as well as numerous other brass detail sets from PART and Extratech.
---