SPz "Marder" 1 A3
Manufacturer: Revell AG. (Kit #03113)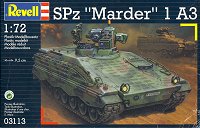 A superb model kit of one of the most effective IFV's in service any where in the world today. I guess that Germany is keeping the best for themselves, since they have not yet exported this vehicle to any foreign nation. Revell seems to be making a concerted effort to produce excellent kits of all Bundeswehr vehicles, so let's hope that some day soon we'll also see a Gepard, Jaguar and Wiesel.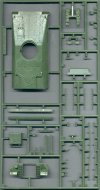 As is typical of Revell's kits, the quality of the moldings is perfect. No flash, sinkmarks, ejection pin marks or other molding imperfections are visible on my kit. All the hull hatches are molded closed, which is disappointing, but the rear fighting compartment door can be posed open, and is detailed on both the outside and inside. No fighting compartment internal detail is included, nor are any figures.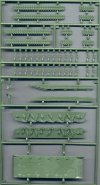 The lower hull is completely detailed, as is the chassis. The tracks are link-and-length, and exceptionally well detailed.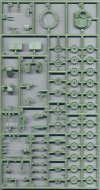 Likewise, the wheels are turret are great. I particularly like the Milan launcher. The commander's turret hatch is open, waiting for the modeler to add a figure. I've seen this kit built, and the final product looks fantastic.

The side skirts are actually detailed on both sides. I guess this is for modelers who want to make a diorama with the skirts removed for servicing, perhaps.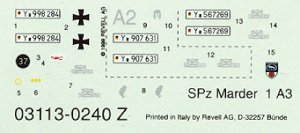 Markings are included for two vehicles. Decals are thin, matte, and printed in register.
---