M2A2 Bradley
Manufacturer: Revell AG. (Kit #03124)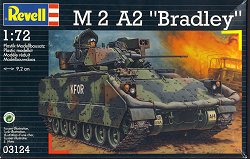 Sometimes, I hate reviewing Revell kits, because of the large number of parts that they come with. It makes for rather tedious scanning. However, a brilliant kit such as this one deserves the attention.

Similar to Revell's other modern AFV kits, this one is fantastic. It is composed of a multitude of parts, it sports an incredible amount of detail, and it is very accurate. There are several etched brass detail sets available for this kit, from both PART and Extratech, including replacement side armor skirts. Although these detail sets include numerous very useful parts for detailing this kit, I don't think they are necessary to build an excellent model right from the box.

I know I am repeating myself with the few criticisms I do have, such as the lack of figures, closed hatches (except the commander's) and tools molded onto the hull. Perhaps I should just not even bring them up any more, until they correct these deficiencies, in which case, it will be cause for celebration.
One of the sprues is clearly marked "M2A2/M3A2", so apprarently they have plans to release the Cavalry version of this vehicle. I guess those plans have been delayed so they can give us more WW II German tanks first.

Interestingly enough, one of the three marking options given to us, is for an M3A2, but this kit cannot be built into that version from the box.
Rob Haelterman adds:
The first batch of kits lacked the subsprue with parts 106,107,108 (and the corresponding drawing in the manual) for the M3A2. This was later rectified. Both releases are externally identical.

This has been a fairly difficult model to scale, because of conflicting drawings and measurements within my references, as well as different dimensions for the various versions of this AFV. However, I am fairly certain that it scales out very well to 1/72nd.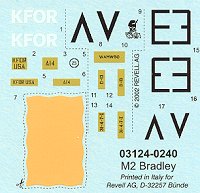 References:

America's One-Two Punch, by Zaloga
Jane's Tanks and Combat Vehicles Recognition Guide, by Foss
M2/M3 Bradley in Action, by Mesko
---