M1A1 (HA) Abrams
Manufacturer: Revell AG. (Kit #03112)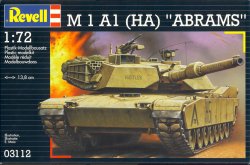 This is pretty much the best Abrams model available from any company. Most of the M1's are average kits, and the ESCI M1A1 has some flaws. This is one of those kits which is very close to perfection.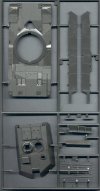 Extremely fine molding and attention to detail make this one of the best small scale models available today. The turret and hull have very delicate non-skid surfacing molded onto them, and all hatches are molded open. I wonder why Revell regressed with their later releases, by molding them closed.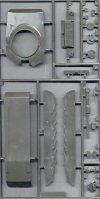 Even the periscope covers are molded open. The turret hatches are detailed on both sides.

The chassis is very detailed, although none of it will be visible if the tank is built completely. But for those of you who want to do a diorama with some wheels taken off, you're all set.

The wheels are spectacular and the machine guns are some of the best available in this scale. The bustle rack framework is molded pretty well, and are quite useable, unless you want to replace it with etched brass parts. But that certainly wouldn't be necessary.

The tracks are perfect.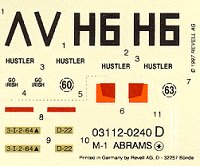 Markings are included for two vehicles: one Desert Storm, and the other in Germany, 1995. Decals are thin, matte, and mostly printed in register (the red and orange are a little off). Highly recommended.
See my Abrams Comparison article for more information on this kit accuracy.
---