SpPz 2 "Luchs"
Manufacturer: Revell AG. (Kit #03118)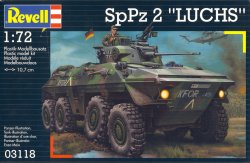 This is another of Revell's "new standard" of models. Superbly molded, highly accurate, with excellent detail and a whole lot of parts.

Of course, my typical unfulfilled desires are still present, that being: closed hatches and no crew figures. But on the plus side, the pioneer tools are now all separate parts. There is a single side hatch molded open, which is an odd choice, but no interior detail is included.

Like the Fuchs, the undercarriage is extremely complex, and will take patience to build. Too bad all that wonderful gear work will not be visible without looking underneath.

With the exception of the closed hatches, the turret is very well done. The MG-3 is especially impressive.
Again like the Fuchs, the wheels are molded in three parts. The hubs and tread detail are really very good.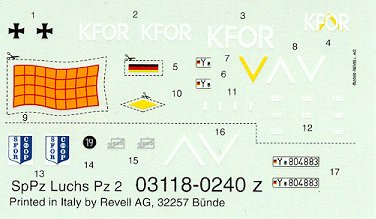 Markings are included for two vehicles: KFOR, Kosovo, in 1999; and GECONSFOR, Bosnia, 1998. Decals are thin, matte, and printed in register.
---