Leopard 1 A5
Manufacturer: Revell AG. (Kit #03115)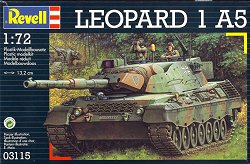 When ESCI originally manufactured their series of Leopard 1 tanks, the newest version at that time was the A4. Since then, of course, Germany has upgraded their Leopard 1 fleet to the A5 standard, and now Revell has given us a remarkable kit of the tank.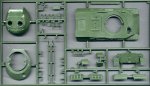 Like Revell's other newest kits, this is an outstanding kit, with only a few minor nit-picks. The detail and accuracy are fantastic. And for a unique change of pace, all of the vehicle's hatches are actually molded open. Now, if only they could include some crew figures to put in them. My onlycomplaint about this kit is that the pioneer tools were molded onto the hull sides. I normally disapprove of this because I like to have options about which tools to attach. But in this case, it is even worse, because the tools are on the sides of the hull that slope downward at an angle. Because of the way the mold had to be made, the tools are therefore molded very flat and in poor relief. Very disappointing. It will be best to carefully remove them, and find replacements somewhere else.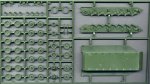 The wheels and chassis are perfect.
Here's a closeup of the wheels: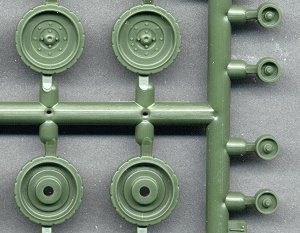 As mentioned, the turret hatches are molded open. The machine guns are superb. They even molded the rubber coating onto the sides of the turret applique armor. Several options are included, such as different engine intake grills, and telephone box on the rear hull, which allows construction of tanks from different production batches.
The tracks are spectacular. Not much else to say about them.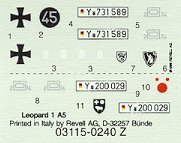 Markings are included for two German tanks. The decals are thin, matte, and well-printed.
According to Osprey New Vanguard No. 16 - Leopard 1 Main Battle Tank 1965-1995 by Michael Jerchel and Peter Sarson; Jane's Tank Recognition Guide, by Christopher Foss, the model scales out perfectly to 1/72nd.
Overall, this is one of the best small scale AFV models ever made.
---